The interpretation examples that we are suggesting are very far from being exhaustive: they only show and outline a general frame describing the problematics of this planetary function. They should therefore not be taken literally. Each being brings indeed its own responses, more or less original, to the issues raised by a planetary function. Through using the R.E.T. and the Theory of ages and combining logic, observation and imagination, you will be able to develop a thousand other possible meanings, a thousand other variations on the same theme. To find out which Planets are dominant in your birth chart, please feel free to visit our website and get your free mini-astrological portrait with our software Astrosoft.
The saturnian profile
Extensive existence : You are a long-term oriented realist. Patient, careful, sceptical, thoughtful, you only take action after having explored all the possibilities, having seriously studied all the hypotheses and having thoroughly assessed the distant consequences of your actions. You aren't scared of the complex, unrewarding and difficult situations that reality puts you in. Forever dissatisfied with established certainties and accepted explanations, you like above all else going further into your experiences, looking for the secret mechanisms that determine beings, things and situations. Your experimental scepticism incites you to check and double-check, to test over and over again the outside world before expressing any opinion whatsoever. For you, life is an inexhaustible souce of fruitful interrogations, a material to knead so as to squeeze out some buried truths. Thrifty, meticulous and methodical, your common sense is sceptical : your scrupulous and detailed observation of the facts of life makes you think that nothing is ever for granted, guaranteed or permanent.
Intensive transcendence : You are never satisfied with anything nor anybody. Distrustful, serious, introvert, meditative, you are first and foremost keen on taking some distance from events, on withdrawing from the world so as to better collect your thoughts. You are fundamentally reticent about common views, about accepted rules and simple certainties. Solitude does not scare you : it provides you with the necessary time for pondering, for questioning yourself, for asking yourself essential questions. Withdrawn, sagacious, philosophical, taciturn, you are in search of an elsewhere and you easily cut yourself off from situations. Reserved, modest, conscientious, it's difficult to extract an instant assent from you. Profound, earnest, a tad pessimistic, you thirst for understanding in order to stop deluding yourself. You carefully cultivate the virtues of lucidity, depth, detachment and indifference. Prudent, impenetrable, without any bombast, you cultivate in yourself a vibe of chronic dissatisfaction that makes you perfectionist and demanding, that incites you never to neglect the future and the unknown.
Original article published in French in issue #4 of Astrologie naturelle (December 1998).
This article was brought to you by
English translation by Julien Rouger
Next article — The Uranian: Psychological profile
---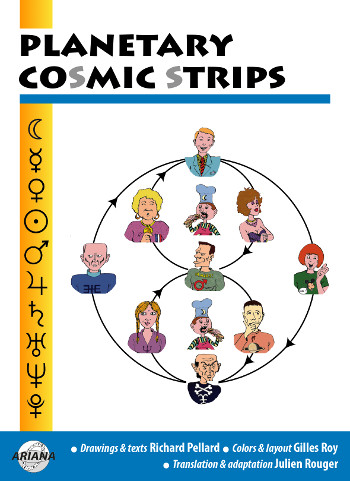 Planetary cosmic strips
30 pages. Color illustrations.
The portraits in comics of the 10 Planets. Discover the funny and educational caricatures, the qualities and defects of the Lunar, the Mercurian, the Venusian, the Solar, the Marsian, the Jupiterian, the Saturnian, the Uranian, the Neptunian, the Plutonian in 20 original pages.
Download it right now from our shop
All rights reserved. © 2003–2023
Richard Pellard
. Prohibited reproduction.
Webmaster:
Julien Rouger
AstroAriana — Website realized with
SPIP