The interpretation examples that we are suggesting are very far from being exhaustive: they only show and outline a general frame describing the problematics of this planetary function. They should therefore not be taken literally. Each being brings indeed its own responses, more or less original, to the issues raised by a planetary function. Through using the R.E.T. and the Theory of ages and combining logic, observation and imagination, you will be able to develop a thousand other possible meanings, a thousand other variations on the same theme. To find out which Planets are dominant in your birth chart, please feel free to visit our website and get your free mini-astrological portrait with our software Astrosoft.
The solar profile
Extensive representation : For your complete self-fulfillment you need to develop intense social exchanges, where you preferably play a role that you wish to be rewarding, central, recognized, exemplary. From your standpoint, the others' appreciation is not negotiable nor to be won : it's a preliminary due, and while you easily show some admiration, in return you also want to be yourself unconditionally admired. Noble, dignified, upright, faithful and transparent within your relationships, you look for the others' approval while making sure as far as possible to never frustrate the expectations you are the object of. Idealistic and proud, extremely careful about the image you're giving of yourself, you strive to always live up to your own character so as not to demean yourself or to disappoint the others. Your sociability can't stand trickeries, mediocrity, baseness, small-minded maneuvers, and even less competition. You know perfectly how to use the conventions of communication and how to cast yourself in the role that is expected of you.
Intensive representation : You like clarity, clearness, precision. You get totally involved, with an extreme passion, in everything you do and say. You control and master yourself, and you intend to control and master everything around yourself. Your narrow field of consciousness incites you to doggedly pursue the goals and objectives that you set yourself, and with which you unreservedly identify yourself. You are driven by unshakeable convictions, sacrosanct principles, absolutist ideals, core values on which you are not able to compromise. Tense and ambitious, determined and self-willed, you intend to absolutely and unstintingly rule, with a kingly authority, over the field that is your own, and thus to become an example, a reference, a model to follow and imitate. You pay an essential attention to the social role that is assigned to you, and have the highest liking for appearing. Extremely sensitive to honours and public recognition, you aspire to be the unique center of someone or something.
Original article published in French in issue #4 of Astrologie naturelle (December 1998).
This article was brought to you by
English translation by Julien Rouger
Next article — The Mercurian: Psychological profile
---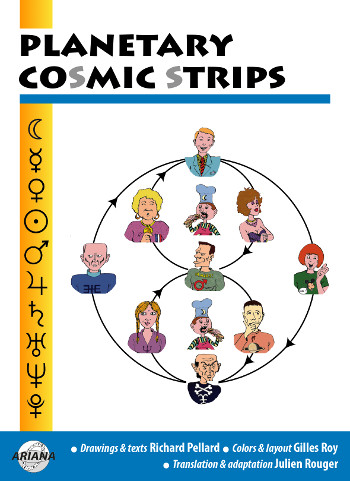 Planetary cosmic strips
30 pages. Color illustrations.
The portraits in comics of the 10 Planets. Discover the funny and educational caricatures, the qualities and defects of the Lunar, the Mercurian, the Venusian, the Solar, the Marsian, the Jupiterian, the Saturnian, the Uranian, the Neptunian, the Plutonian in 20 original pages.
Download it right now from our shop
All rights reserved. © 2003–2023
Richard Pellard
. Prohibited reproduction.
Webmaster:
Julien Rouger
AstroAriana — Website realized with
SPIP