The interpretation examples that we are suggesting are very far from being exhaustive: they only show and outline a general frame describing the problematics of this planetary function. They should therefore not be taken literally. Each being brings indeed its own responses, more or less original, to the issues raised by a planetary function. Through using the R.E.T. and the Theory of ages and combining logic, observation and imagination, you will be able to develop a thousand other possible meanings, a thousand other variations on the same theme. To find out which Planets are dominant in your birth chart, please feel free to visit our website and get your free mini-astrological portrait with our software Astrosoft.
The jupiterian profile
Extensive existence : You are above all an organized pragmatic person. Dynamic, jovial, bon vivant, proactive, you take absolutely seriously the realities of existence, of which you intend not losing any opportunity. You have some know-how, some common sense, a practical logic that enables you to tackle concrete problems head-on and to use them in your best interests. Empirical and reasonable, regardful of economic prosperity, you know how to get simple, useful and profitable lessons out of your experiences. You know how to put some order in your perception of things, to discipline your daily life, to hierarchize your desires and needs, to regulate your activity according to some precise norms. Confident, self-assured, you feel at ease in the world of material realities that you turn into a springboard for your ambitions. Expansive, cheerful, rather optimistic, you give yourself the means to be able to enjoy healthily and in abundance the good things in life, without ever losing sight of your practical interests. Each of your actions is useful, productive, organized, directed towards a specific purpose.
Intensive representation : You know what you want, and you give yourself the necessary means to get it. Ambitious, full of authority, imperious, regardful of your social impact, you intend to fully play the role that is yours within the society you belong to. You are always ready to take the initiative in order to exchange, to negotiate and to cooperate with the others, to make yourself useful so as to showcase yourself. You have talents as an educationalist, a lawyer, a diplomat, a leader, and you have top-level language skills : you know how to smoothly and clearly communicate your wishes, explain your intentions, convince your interlocutors of the legitimacy of your worldview. Your judgments are imperious, driven by common sense. A hard-working and self-willed manager, gifted with a sense for organization, you stand out as a person of experience and you are talented for bringing some structure, logic and order in everything you do. You want to be recognized for your practical skills, for your ability to play by the rules of the social game, to make yourself useful — if not irreplaceable.
Original article published in French in issue #4 of Astrologie naturelle (December 1998).
This article was brought to you by
English translation by Julien Rouger
Next article — The Saturnian: Psychological profile
---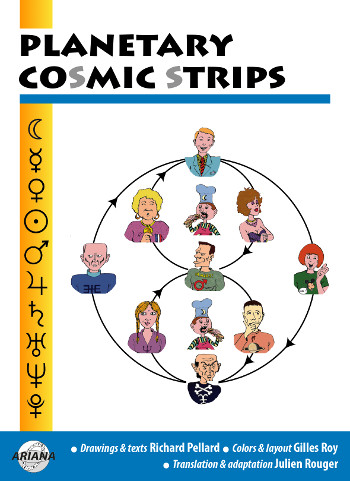 Planetary cosmic strips
30 pages. Color illustrations.
The portraits in comics of the 10 Planets. Discover the funny and educational caricatures, the qualities and defects of the Lunar, the Mercurian, the Venusian, the Solar, the Marsian, the Jupiterian, the Saturnian, the Uranian, the Neptunian, the Plutonian in 20 original pages.
Download it right now from our shop
All rights reserved. © 2003–2023
Richard Pellard
. Prohibited reproduction.
Webmaster:
Julien Rouger
AstroAriana — Website realized with
SPIP