The interpretation examples that we are suggesting are very far from being exhaustive: they only show and outline a general frame describing the problematics of this planetary function. They should therefore not be taken literally. Each being brings indeed its own responses, more or less original, to the issues raised by a planetary function. Through using the R.E.T. and the Theory of ages and combining logic, observation and imagination, you will be able to develop a thousand other possible meanings, a thousand other variations on the same theme. To find out which Planets are dominant in your birth chart, please feel free to visit our website and get your free mini-astrological portrait with our software Astrosoft.
The mercurian profile
Extensive representation : You are an all-around sociable person, eager for varied encounters, for multiple contacts, always ready to engage in dialogue with others for the simple pleasure of communication. People interest you straightaway by their diversity, and your human curiosity is aroused by detecting the slightest sign that facilitates getting in touch. Playful, relaxed, receptive, your mind always on the move, sometimes uncatchable through your zigzags and your twirls, you are keen to remain free to start and leave the conversation whenever you please, to feel that you aren't tied to anything or anybody. Basically, if you like chatting and communicating, you do it for fun, just to see, without ever really getting involved in your words or taking yourself seriously. Fundamentally open-minded to the others, having nothing to prove or to demonstrate, you infinitely multiply the facets of your own character and you make it your duty to be always changeable, ready to make new connections and to welcome new points of view with pleasure, curiosity and interest.
Intensive transcendence : You are spontaneously open to the unknown and the unforeseeable. Distrustful towards definitive certainties, accepted theories, thought habits, and so-called sacrosanct principles, you know that the truth is multiple and that it should always be sought beyond appearances, by tracking down the slightest clues that can point towards it. For you any explanation that is meant to be unique is necessarily unsatisfying, and you never refrain yourself from criticizing or ridiculing those who claim having understood everything. Your immense and unquenchable inquisitiveness incites you to multiply your centers of interest and your fields of discovery, so that your thought doesn't idle in a too well-known or a too dwelled-upon routine. You can occasionally be ironic, acerbic, mocking : it's for you a way to keep away from excessive seriousness. You know how to take a wide step back from all your involvements and how to preserve your freedom to change your mind, to alter your way of thinking at any time.
Original article published in French in issue #4 of Astrologie naturelle (December 1998).
This article was brought to you by
English translation by Julien Rouger
Next article — The Venusian: Psychological profile
---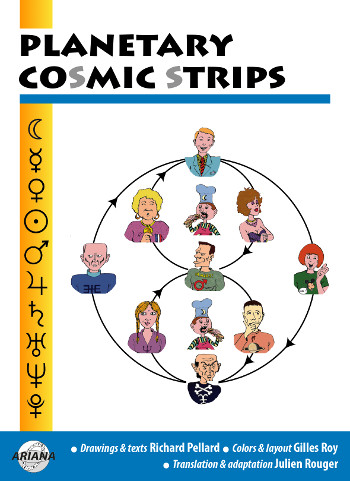 Planetary cosmic strips
30 pages. Color illustrations.
The portraits in comics of the 10 Planets. Discover the funny and educational caricatures, the qualities and defects of the Lunar, the Mercurian, the Venusian, the Solar, the Marsian, the Jupiterian, the Saturnian, the Uranian, the Neptunian, the Plutonian in 20 original pages.
Download it right now from our shop
All rights reserved. © 2003–2023
Richard Pellard
. Prohibited reproduction.
Webmaster:
Julien Rouger
AstroAriana — Website realized with
SPIP