The interpretation examples that we are suggesting are very far from being exhaustive: they only show and outline a general frame describing the problematics of this planetary function. They should therefore not be taken literally. Each being brings indeed its own responses, more or less original, to the issues raised by a planetary function. Through using the R.E.T. and the Theory of ages and combining logic, observation and imagination, you will be able to develop a thousand other possible meanings, a thousand other variations on the same theme. To find out which Planets are dominant in your birth chart, please feel free to visit our website and get your free mini-astrological portrait with our software Astrosoft.
The uranian profile
Extensive transcendence : You make up your mind according to underlying motivations, to firm convictions that don't owe anything to your present situation nor to what is suggested to you. Something radically refractory within yourself incites you to assert your uniqueness, to display your originality, to stand out from the crowd. Instead of painstaking analyses and experimental deductions, you prefer your lightning intuitions that allow you to simplify the most complex problems and to make clear anything obscure. Considering yourself as the holder of absolute certainties for which you are taking responsibility in full independence, you impose your perceptive and sometimes visionary insights without being afraid of surprising, shocking, destabilizing. With a wealth of abstract, cold and synthetizing cerebrality, you have no qualms about innovating, building new concepts that carry authority. You reserve the option of radically changing your point of view, of autonomously making independent choices, whatever it takes. In your own hyper-individualized way, you express your sense of universal values.
Intensive representation : You are an intransigent voluntarist who gets intensely involved into choices that you deem essential. You are not afraid of taking hard, clear-cut, final decisions in all conscience and independence. Once you worked out a plan, developed a strategy, nothing could make you change your mind or veer off your path and objective, whatever the events and circumstances are. Rigorous, efficient, imperious, your cold and organized cerebrality has in theory an answer for everything and knows how to find the most convincing solutions to the most confusing problems. Accurate, systematic, hyper-logical, you don't leave anything to chance and you unashamedly force your will. You don't hesitate getting mightily involved in order to assert your deepest and least ascertainable principles and convictions. Individualistic, elitist, inflexible as far as your personal fulfilment is concerned, your incredible self-assurance allows you to dare whenever you decide the most radical splits or challenges.
Original article published in French in issue #4 of Astrologie naturelle (December 1998).
This article was brought to you by
English translation by Julien Rouger
Next article — The Neptunian: Psychological profile
---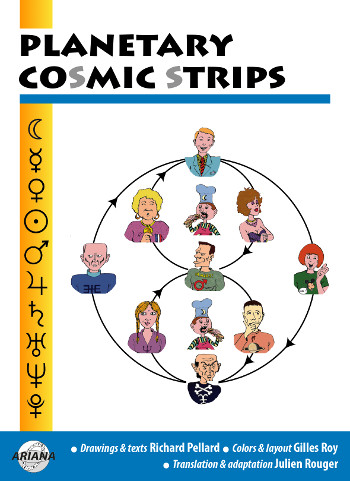 Planetary cosmic strips
30 pages. Color illustrations.
The portraits in comics of the 10 Planets. Discover the funny and educational caricatures, the qualities and defects of the Lunar, the Mercurian, the Venusian, the Solar, the Marsian, the Jupiterian, the Saturnian, the Uranian, the Neptunian, the Plutonian in 20 original pages.
Download it right now from our shop
All rights reserved. © 2003–2023
Richard Pellard
. Prohibited reproduction.
Webmaster:
Julien Rouger
AstroAriana — Website realized with
SPIP