Adapted Cancer and Sagittarius
Difference Cancer-Sagittarius: Inhibition strength versus Excitation strength
Blocking Inhibition strength for Cancer: the defender. One protects oneself from the overdose of external stimuli, one delineates one's force, territory or power, one places a border between oneself and the outside world. Inside this border, one explores one's acquired skills, one's wealth (mental, affective or whatnot) accumulated through strengthening one's protective bulwarks. One defends one's nest, one's stronghold, one's shelter, one's core community. There, one faces oneself: self-esteem, narcissism or subjectivity problems.
Associating Excitation strength for Sagittarius: the missioner. The associating Excitation strength reaches its climax: one establishes connections, associations or correlations between fields that seem the farthest apart, the most heterogeneous. Sensitivity to general interactions. Wide-ranging cooperations, universal understanding. Disappearance of the individual in his social or natural environment: one just becomes a link of a vast chain. Open, active and generous sociability; readiness to get out of one's way so that the universal should prevail over the particular.
Difference Cancer-Sagittarius: Excitation slowness versus Inhibition quickness
Excitation slowness for Cancer: the tortoise. The Excitation (the action) is slow, continuous, progressive, persevering: one builds step by step, one organizes systematically, one is patient, one hangs on, one is able to wait. The openness is mastered: it must be efficient. Concern for organizing and controlling within a closed environment, self-control or tutelary authority. Ritual or repetitive behaviors: habits and routines providing a sound framework for actions, thoughts and emotions. Persistence of memories, traditions, regulating safeguards.
Inhibition quickness for Sagittarius: the sophisticated. A consummate art of sidestepping, well-knit avoidance tactics, sophisticated people skills: one handles with ease, skill and style the pawns of socioculture, one can opportunely mediate and withdraw, one can advocate a total opening while allowing some selection mechanisms; one can expand indefinitely the field of possible cooperations on an abstract level — but not with just anyone on a practical level, hence an enlightened elitism.
Similarity Cancer-Sagittarius: Sense of syntheses
Sense of syntheses for Cancer: the heritage. Gemini phase was characterized by an ensemble integrating ever more elements (growth and absolute domination of daytime). In Cancer phase, daytime still dominates absolutely but is now decreasing: there is nothing left to include, it's now time to integrate. It's a synthesis within a closed environment: a place for the greatest content. One gathers within a restrictive framework, under the same auspices. Preserving an exhaustive memory, living fully all the facets of one's inner world and protecting it against any exteriority. Steadily maintaining a variety of projects. Sense of internal consistency and of homogeneity.
Sense of syntheses for Sagittarius: the unifier. One is in search of an endlessly open macro-synthesis, with all its elements interdependently and flexibly connected to each other. Everything holds together, from microcosm to macrocosm, from top to down, from left to right, from the Earth to the Sky: universalism, cosmopolitanism, encyclopaedism. It's not even "it takes all sorts to make a world", it's "the world is made of a whole". One is determined to stick to the big picture that absolutely rises above the usual dualities, rivalries, splits, distinctions and antagonisms. Liking for mixings, miscegenations and hybridizations; need to unite the whole personality into a harmonious and dynamic synthesis.

Unadapted Cancer and Sagittarius
Difference Cancer-Sagittarius: Excitation weakness versus Inhibition weakness
Associating Excitation weakness for Cancer: the stay-at-home. He doesn't want or is not able to join forces with others, with the outside world, withdraws timidly inside its protective cocoon, makes any contact impossible, breaks all ties, eradicates any common ground. He dawdles, gives in to laziness, to carelessness, to nonchalance. He's gruff, antisocial, hermit, cultivates clannishness, refuses to understand viewpoints that differ from his. He functions in closed circuit, auto-intoxicating himself with his own thoughts or emotions.
Blocking Inhibition weakness for Sagittarius: the foolhardy. The blocking Inhibition weakness is at a peak: radical rebelliousness, lack of foresight, impatience, presumption, rashness. Being ready to all excesses, all immoderations; taking the most absurd or the riskiest bets. Trying to reach the unreachable star, running away towards the absolute, the infinity, the unlimited. The instinct of self-preservation is reduced to zero. One doesn't accept any restriction, any normative framework, ceaselessly escaping from a fake prison so as to go towards an illusory freedom.
Difference Cancer-Sagittarius: Unadapted Inhibition quickness versus Unadapted Excitation slowness
Unadapted Inhibition quickness for Cancer: the alarmist. Inhibition reactions are strong but unadapted to the situation: one runs away from imaginary dangers, one has ill-timed or early defense reactions, one buries one's head in the sand. One fears, one freaks out, one worries for nothing. One panics about the intrusion of elements foreign to the cocoon; the outside world is systematically considered as hostile. Discriminations are running on empty: phobic doubts, impossible choices, speculations about anything.
Unadapted Excitation slowness for Sagittarius: the megalomaniac. The need to organize and master applies to anything gigantic, immense, extraordinary, colossal. Imagination is carried away into mythomania, the delusion of being controlled, the search for greatness or for mythical heroism. Unquenchable quest for an insane power. Energizing identification to exceptional beings, or empty solemnity that impresses in order to hide the void of a spineless personality; vain hallucinated ambitions against a backdrop of ineffectualness to set oneself a realistic action framework.
Similarity Cancer-Sagittarius: Ultraparadoxical phase
Ultraparadoxical phase for Cancer: the shambles. The loss of the differentiation of antagonisms reaches the sense of boundaries: are we inside or outside? Uncertain boundaries. Homebirds dream of adventures. Adventurous or bohemian ones dream of a home sweet home. What's real and imaginary, subjective and objective, gets superimposed and mixed up. One is moved by one's own emotions, one thinks about one's own thoughts in a closed circuit. Everything agglomerates within a closed environment: heterogeneous shambles or jumble, stacking of thoughts, dreams or emotions smashed into pieces, without any link in between, without any connecting thread. Identification to what protects (family, place, authority) and reflexes of fear or flight once faced with cooperation offers, with helping hands.
Ultraparadoxical phase for Sagittarius: the tower of Babel. One wants to integrate and make cooperate the most irreducibly antagonist sides, the most radically alien viewpoints. Great mishmash, ridonkulous associations. What's normally inhibiting becomes stimulating: attraction for danger, Russian roulette, silly gambles, exhausting one's supplies with relish. Social hyper-conditioning while aiming at originality: the parlor revolutionary, the self-righteous nonconformist, actions that are inconsistent with the displayed ethics. Excessively playing down one's enemies: ending up playing their game by dint of telling oneself that one can set the cats among the pigeons provided that everyone cooperates with civility.

This article was brought to you by
English translation by Julien Rouger
Next article — Cancer-Capricorn: similarities and differences
See also:
---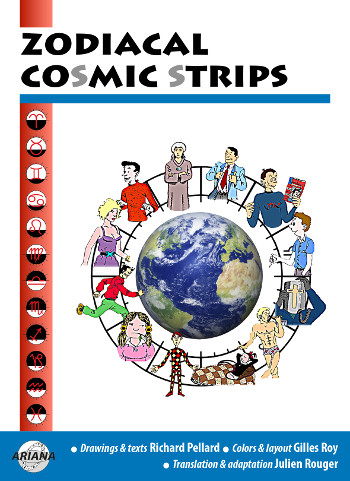 Zodiacal cosmic strips
32 pages. Color illustrations.
The portraits in comics of the 12 zodiac Signs. Discover the funny and educational caricatures, the qualities and defects of the Aries, the Taurus, the Gemini, the Cancer, the Leo, the Virgo, the Libra, the Scorpio, the Sagittarius, the Capricorn, the Aquarius, the Pisces in 24 original pages.
Download it right now from our shop