Adapted Gemini and Cancer
Difference Gemini-Cancer: Excitation strength versus Inhibition strength
Expending Excitation strength for Gemini: the libertarian. The natural Excitation strength made some progress since the Aries phase: Excitation became widespread; the energy lost its initial brutality through spreading. Multiple interests, all-around exploratory curiosity, greater sensitivity to the abstract, to the appearances, to the infinite facets of the outside world. Broad openness, immense receptiveness, listening to all perspectives, varied initiatives.
Blocking Inhibition strength for Cancer: the defender. One protects oneself from the overdose of external stimuli, one delineates one's force, territory or power, one places a border between oneself and the outside world. Inside this border, one explores one's acquired skills, one's wealth (mental, affective or whatnot) accumulated through strengthening one's protective bulwarks. One defends one's nest, one's stronghold, one's shelter, one's core community. There, one faces oneself: self-esteem, narcissism or subjectivity problems.
Difference Gemini-Cancer: Excitation quickness versus Excitation slowness
Excitation quickness for Gemini: the chameleon. The Excitation quickness reaches its climax: brisk, flexible, free-flowing reactions, hyper-adaptability to the variety of stimuli from the outside world. One flits from one thing to another, comfortable with change, movement, diversity, transformations. Versatility, jack-of-all-trades, liking for what's multicolor or polyphonic, great tactic subtlety. Everything stimulates, galvanizes, interests, anything triggers enthusiastic reactions. Optimal convertibility, multi-faceted unpredictable behaviour.
Excitation slowness for Cancer: the tortoise. The Excitation (the action) is slow, continuous, progressive, persevering: one builds step by step, one organizes systematically, one is patient, one hangs on, one is able to wait. The openness is mastered: it must be efficient. Concern for organizing and controlling within a closed environment, self-control or tutelary authority. Ritual or repetitive behaviors: habits and routines providing a sound framework for actions, thoughts and emotions. Persistence of memories, traditions, regulating safeguards.
Similarity Gemini-Cancer: Sense of syntheses
Sense of syntheses for Gemini: the one-man band. Excitation reduces Inhibition to the bare bones. The refusal or the active surpassing of antagonisms allows everything and everyone to meet freely. The most heterogeneous elements mingle naturally, each of these being fully autonomous while connected to the others by an overall dynamics that combines apparently irreducible dualities. Humanism is instinctive, universalism is spontaneous. The contradictions that emerge from opposing viewpoints can even out from the moment everyone respects the basic freedom of the other.
Sense of syntheses for Cancer: the heritage. Gemini phase was characterized by an ensemble integrating ever more elements (growth and absolute domination of daytime). In Cancer phase, daytime still dominates absolutely but is now decreasing: there is nothing left to include, it's now time to integrate. It's a synthesis within a closed environment: a place for the greatest content. One gathers within a restrictive framework, under the same auspices. Preserving an exhaustive memory, living fully all the facets of one's inner world and protecting it against any exteriority. Steadily maintaining a variety of projects. Sense of internal consistency and of homogeneity.

Unadapted Gemini and Cancer
Difference Gemini-Cancer: Inhibition weakness versus Excitation weakness
Eliminating Inhibition weakness for Gemini: the exhibitionist. It's like for Aries, but one step up: the lack of restraint and control is almost total, radical, general; unrestrained, inconsiderate, scattered over anything pointless, anecdotal, ephemeral. Like a feather in the wind: no center, no interiority, no depth. Lacking in foresight, thoughtless, whimsical, futile, over-suggestible, it's a naive puppet at the mercy of stronger and more determined wills.
Associating Excitation weakness for Cancer: the stay-at-home. He doesn't want or is not able to join forces with others, with the outside world, withdraws timidly inside its protective cocoon, makes any contact impossible, breaks all ties, eradicates any common ground. He dawdles, gives in to laziness, to carelessness, to nonchalance. He's gruff, antisocial, hermit, cultivates clannishness, refuses to understand viewpoints that differ from his. He functions in closed circuit, auto-intoxicating himself with his own thoughts or emotions.
Difference Gemini-Cancer: Unadapted Inhibition slowness versus Unadapted Inhibition quickness
Unadapted Inhibition slowness for Gemini: the intellectualist. Like for Aries, there are two possibilities. Either the brake can't be pulled, and in this case the Gemini is an absolute weather vane, pathologically nervous, suffering from extreme distraction and instability. Or the brake can't be released, which can lead the Gemini to intellectualist imaginary constructs that disregard the reality of the physical world; unless he takes refuge into an absolute indifference, possibly supported by a philosophy of failure and nothingness. Incommunicable, unverifiable abstract hermetism.
Unadapted Inhibition quickness for Cancer: the alarmist. Inhibition reactions are strong but unadapted to the situation: one runs away from imaginary dangers, one has ill-timed or early defense reactions, one buries one's head in the sand. One fears, one freaks out, one worries for nothing. One panics about the intrusion of elements foreign to the cocoon; the outside world is systematically considered as hostile. Discriminations are running on empty: phobic doubts, impossible choices, speculations about anything.
Similarity Gemini-Cancer: Ultraparadoxical phase
Ultraparadoxical phase for Gemini: the misunderstanding. The loss of the sense of antagonisms leads to an inversion of the Excitation-Inhibition system: what is normally inhibiting becomes stimulating, hence a lure for what's harmful, dangerous, immoral, taboo, etc. Absurdity becomes sensible, "you" becomes "I" (active and spontaneous identification to the others, impersonation, parody, mime, splitting). Taste for blatant illogicalities, preposterous speculations. At best he succeeds, diplomat of the ephemeral, in blending the most opposing viewpoints into a fragile and fleeting alliance. At worst that's a constant split, incredible stunts to justify every contradiction.
Ultraparadoxical phase for Cancer: the shambles. The loss of the differentiation of antagonisms reaches the sense of boundaries: are we inside or outside? Uncertain boundaries. Homebirds dream of adventures. Adventurous or bohemian ones dream of a home sweet home. What's real and imaginary, subjective and objective, gets superimposed and mixed up. One is moved by one's own emotions, one thinks about one's own thoughts in a closed circuit. Everything agglomerates within a closed environment: heterogeneous shambles or jumble, stacking of thoughts, dreams or emotions smashed into pieces, without any link in between, without any connecting thread. Identification to what protects (family, place, authority) and reflexes of fear or flight once faced with cooperation offers, with helping hands.

This article was brought to you by
English translation by Julien Rouger
Next article — Gemini-Leo: similarities and differences
See also:
---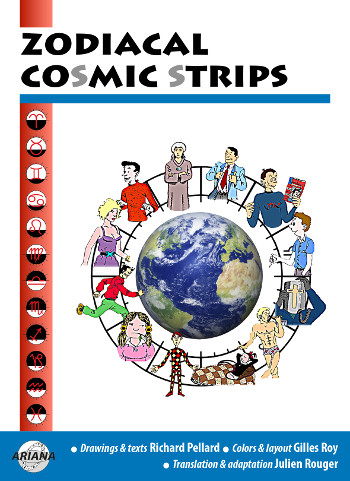 Zodiacal cosmic strips
32 pages. Color illustrations.
The portraits in comics of the 12 zodiac Signs. Discover the funny and educational caricatures, the qualities and defects of the Aries, the Taurus, the Gemini, the Cancer, the Leo, the Virgo, the Libra, the Scorpio, the Sagittarius, the Capricorn, the Aquarius, the Pisces in 24 original pages.
Download it right now from our shop