Adapted Aries and Cancer
Difference Aries-Cancer: Excitation strength versus Inhibition strength
Expending Excitation strength for Aries: the leader. First stage of the natural Excitation strength: daytime overrides nighttime, sweeps away its inhibitions and indifferences. An intact energetic potential that storms out and dashes into the environment. Animal aggressivity, pioneering activities, ardent and concrete sensations, absolute spontaneity, no a priori; an instinctive and powerful, dynamic and audacious force that pours out lavishly, a urge to take action that can't tolerate any delay or limitation.
Blocking Inhibition strength for Cancer: the defender. One protects oneself from the overdose of external stimuli, one delineates one's force, territory or power, one places a border between oneself and the outside world. Inside this border, one explores one's acquired skills, one's wealth (mental, affective or whatnot) accumulated through strengthening one's protective bulwarks. One defends one's nest, one's stronghold, one's shelter, one's core community. There, one faces oneself: self-esteem, narcissism or subjectivity problems.
Difference Aries-Cancer: Excitation quickness versus Excitation slowness
Excitation quickness for Aries: the improviser. First stage of the Excitation quickness: a lightning mobilization of Excitation supplies. Aries hits the ground running, reactions are immediate, decisions are sudden. Moves are made right off, reflexes are instantaneous. Hectic paces, unlimited speeding up. Cyclothymic temper, fast adaptation to the environment's fluctuations. Quick Excitation induces a liking for big effects: great fanfare, vivid colors, forceful picturesqueness.
Excitation slowness for Cancer: the tortoise. The Excitation (the action) is slow, continuous, progressive, persevering: one builds step by step, one organizes systematically, one is patient, one hangs on, one is able to wait. The openness is mastered: it must be efficient. Concern for organizing and controlling within a closed environment, self-control or tutelary authority. Ritual or repetitive behaviors: habits and routines providing a sound framework for actions, thoughts and emotions. Persistence of memories, traditions, regulating safeguards.
Difference Aries-Cancer: Sense of opposites versus Sense of syntheses
Sense of opposites for Aries: the decision maker. First stage of the Sense of opposites, polarized by the Excitation strength and quickness: one takes sides without hesitation nor subtleties, one is bluntly for or against, up to manichaeism. Brutal frankness, unwillingness to compromise, "he who is not with me is against me". Since choices are quick, instinctive, thoughtless, adaptation might require calling these into question. In this case, complete turnarounds: what used to be adored is fought with equal violence.
Sense of syntheses for Cancer: the heritage. Gemini phase was characterized by an ensemble integrating ever more elements (growth and absolute domination of daytime). In Cancer phase, daytime still dominates absolutely but is now decreasing: there is nothing left to include, it's now time to integrate. It's a synthesis within a closed environment: a place for the greatest content. One gathers within a restrictive framework, under the same auspices. Preserving an exhaustive memory, living fully all the facets of one's inner world and protecting it against any exteriority. Steadily maintaining a variety of projects. Sense of internal consistency and of homogeneity.

Unadapted Aries and Cancer
Difference Aries-Cancer: Inhibition weakness versus Excitation weakness
Eliminating Inhibition weakness for Aries: the impulsive. Aries is unable to develop any indifference, to stay stone-faced, to remain phlegmatic. Difficulty or impossibility to forget, to boycot, to wipe the slate clean. He charges in no matter what, driven to intoxication by the present moment. He's fearless, impulsive, impatient, daredevil, short-sighted. The weakness of oblivion underlines the importance of memory: first impressions are indelible. The lack of distance, therefore of thought, makes him naive, gullible, ready to believe anything.
Associating Excitation weakness for Cancer: the stay-at-home. He doesn't want or is not able to join forces with others, with the outside world, withdraws timidly inside its protective cocoon, makes any contact impossible, breaks all ties, eradicates any common ground. He dawdles, gives in to laziness, to carelessness, to nonchalance. He's gruff, antisocial, hermit, cultivates clannishness, refuses to understand viewpoints that differ from his. He functions in closed circuit, auto-intoxicating himself with his own thoughts or emotions.
Difference Aries-Cancer: Unadapted Inhibition slowness versus Unadapted Inhibition quickness
Unadapted Inhibition slowness for Aries: the intractable. The brake is difficult to maneuver. Two solutions are possible. Either braking is impossible: impulsiveness has no limits anymore, it's a constant accident, a vertigo of ceaseless confrontation with the external environment, an endless going overboard. Or rebooting is impossible: he managed to brake but can't release the brake anymore. He then builds himself monolithic and unilateral defence systems. His refusals are rigid and never change, whatever the situation is. Entrenched, morbid resentment and grudges. The imagination is fascinated by legends, by baroque myths.
Unadapted Inhibition quickness for Cancer: the alarmist. Inhibition reactions are strong but unadapted to the situation: one runs away from imaginary dangers, one has ill-timed or early defense reactions, one buries one's head in the sand. One fears, one freaks out, one worries for nothing. One panics about the intrusion of elements foreign to the cocoon; the outside world is systematically considered as hostile. Discriminations are running on empty: phobic doubts, impossible choices, speculations about anything.
Difference Aries-Cancer: Egalitarian phase versus Ultraparadoxical phase
Egalitarian phase for Aries: the all-for-nothing. A monochrome aggressivity incites to fight everything altogether: everything is rejected and tarred with the same brush. Visceral hostility against "Tweedledums and Tweedledees". Everyone is wrong, friends as well as enemies. Good is not better than evil. Narrow-minded refusals, mind deafness, rigid personal philosophy that mustn't be questioned by anyone. The perception of antagonisms, once shifted to abstraction, amounts to a "me against the whole world".
Ultraparadoxical phase for Cancer: the shambles. The loss of the differentiation of antagonisms reaches the sense of boundaries: are we inside or outside? Uncertain boundaries. Homebirds dream of adventures. Adventurous or bohemian ones dream of a home sweet home. What's real and imaginary, subjective and objective, gets superimposed and mixed up. One is moved by one's own emotions, one thinks about one's own thoughts in a closed circuit. Everything agglomerates within a closed environment: heterogeneous shambles or jumble, stacking of thoughts, dreams or emotions smashed into pieces, without any link in between, without any connecting thread. Identification to what protects (family, place, authority) and reflexes of fear or flight once faced with cooperation offers, with helping hands.

This article was brought to you by
English translation by Julien Rouger
Next article — Aries-Leo: similarities and differences
See also:
---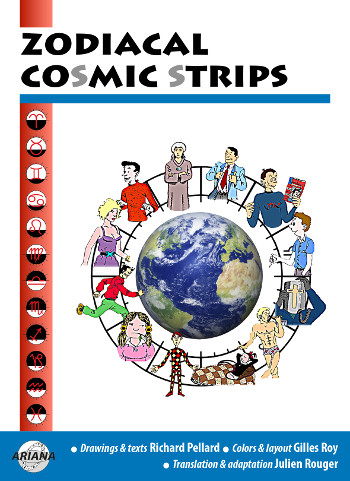 Zodiacal cosmic strips
32 pages. Color illustrations.
The portraits in comics of the 12 zodiac Signs. Discover the funny and educational caricatures, the qualities and defects of the Aries, the Taurus, the Gemini, the Cancer, the Leo, the Virgo, the Libra, the Scorpio, the Sagittarius, the Capricorn, the Aquarius, the Pisces in 24 original pages.
Download it right now from our shop