Adapted Scorpio and Aquarius
Difference Scorpio-Aquarius: Inhibition strength versus Excitation strength
Differentiating Inhibition strength for Scorpio: the opponent. One perceives first and foremost what distinguishes, differentiates or separates beings, objects, feelings or ideas: one dissects, one discriminates, one split hairs, one refuses too easy associations or similarities. One systematically emphasizes what contrasts and separates: nitpicking, adding fuel to the fire, widening the gaps, standing out at every opportunity, triggering splits, hitting a nerve, accentuating contrasts.
Recreating Excitation strength for Aquarius: the reformer. One reacts against oblivion, disillusionment, disinterest; one refuses paralysis and renunciation: reinventing and transforming oneself, rejuvenating, being born again; renewing one's point of view, looking at things from an unprecedented perspective, telling oneself that nothing is ever lost for good, that hope is still possible; opening up closed structures, dusting off the ways of being, thinking or feeling, etc.
Difference Scorpio-Aquarius: Negative induction versus Positive induction
Negative induction for Scorpio: the insightful. The associating Excitation focuses onto a narrow field: sectarian alliances, clannishness, mafia, close ties, demanding oaths, exclusive and closed unions, exacting interlockings. Focus on the most minute details, on the flaws of a contract; intense perception of time: critical juncture, historical moment.
Positive induction for Aquarius: the full-of-hope. The eliminating Inhibition focuses onto a narrow field: one forgets the negative, the past, one banishes once and for all any dead values, any disenchantment, any incitement to pessimism. Thus immune to any germ of despair, one can build a brighter future, one can be sensitive to promises, to rising seeds, to optimistic perspectives.
Difference Scorpio-Aquarius: Inhibition quickness versus Inhibition slowness
Inhibition quickness for Scorpio: the crafty. The Scorpio is an inhibited person with ultra-fast defence systems: he's a motocross topnotcher. Clever, subtle, crafty, skillful, he slips through nets, zigzags between obstacles. His mind quickly grasps how beings and things function behind the scenes. He brilliantly knows how to use evasive promises and detailed threats, always ready to dodge as and when necessary, standing firm about the content while being very flexible in form.
Inhibition slowness for Aquarius: the visionary. The Aquarius remains open and receptive, no matter what, thanks to some monolithic, locked, immutable defence systems. He knows how to take shelter from the outside world, which he's basing all his hopes on. An optimistic but not a fool, he reckons that his resurrection ventures will be all the more efficient that he'll himself be stoical and steadfast in the face of adversity, not giving any ground to the others: there's no way that his intuition of new possibilities in the making gets diverted by the ebb and flow of circumstances.
Similarity Scorpio-Aquarius: Sense of proportions
Sense of proportions for Scorpio: the double-crosser. The Sense of opposites gives way to the Sense of syntheses: one must strike a subtle balance between the taste for sharp contrasts and the unity of behaviours. The concentrated associativity requires to unite two opposites into one perspective, while the differentiating Inhibition maintains antagonisms. It's the world of double-crossing: one deals with one's adversary so as to better fight him and to bring him onto one's ground; one makes a deal with the devil so that good should prevail. One stands on pivots, on dividing lines, conducive to underhand double deals. One partners closely with one's rival in order to better tie him up.
Sense of proportions for Aquarius: the inventive. The Sense of syntheses gives way to the Sense of proportions: it's about an abstract unity that must be dissociated and concretized through choices. One is in search of original alliances and unprecedented proportions between the enthusiastic promotion of impersonal causes and the protection of individual freedom. One wants to show some solidarity while keeping one's room for manoeuvre, one wants to counterbalance optimism with a lucidity devoid of illusions. One strikes an efficient balance between prospective imagination and rigor, between perseverance and immediate opening to novelty. One is seeking domination in the name of abstract values so as to better free the other from past servitudes.

Unadapted Scorpio and Aquarius
Difference Scorpio-Aquarius: Excitation weakness versus Inhibition weakness
Unblocking Excitation weakness for Scorpio: the prisoner. Locked up in the cell of one's singularity, one is not able anymore to step outside oneself, outside one's boundaries, to break free, to surpass oneself. One stagnates in the doldrums, one wades through the quagmire, ones sinks into the swamp. Decay, ghetto, oppressive environment, life sentence, prisoner of fate. In order to be oneself nevertheless, one sticks to one's miasmas, one's failures, one's turpitude; one becomes even more negative by walking round and round in the prison of one's singularity.
Recovering Inhibition weakness for Aquarius: the bottomless pit. One can't take a break in order to cool off, to have some rest, to recover: feverish excitement, exhausting bustle. One doesn't put down any roots, one isn't able to use one's natural environment for thriving, for saving one's strength. One pushes oneself too hard: no resistance, no stability, no practical interests. Prodigality, thoughtlessness, lack of foresight, lack of animal prudence. The grasshopper from the fable, the rolling stone, the absence of solid foundation.
Difference Scorpio-Aquarius: Unadapted Excitation slowness versus Unadapted Excitation quickness
Unadapted Excitation slowness for Scorpio: the vampire. Persistence of haunting images, need to organize and control in a closed environment: one feels vested with magical, unique, secret powers; one draws power from one's immutable fixedness, from one's intolerant subjectivity, from one's systematic oppositions — futile just as well as haughty. One pulls the strings from behind the scenes while living as a parasite, at the expense of others' sorrow, shamelessly, with a cynical domineering mindset.
Unadapted Excitation quickness for Aquarius: the restless. With the Inhibition weakness, it's expressed with great ease: brisk, unexpected, unpredictable reactions; rollercoaster mood swings, euphoric exaltations for no reason, inopportune improvisations, attraction for scandals, going overboard, abrupt segues, slip-ups, pathological cyclothymia; perfunctory attempts to take actions that fizzle out, constant fantasia, quick comprehension or fickle feelings that don't leave any trace afterwards.
Similarity Scorpio-Aquarius: Paradoxical phase
Paradoxical phase for Scorpio: the schemer. Losing the sense of intensities, the Scorpio reacts strongly to weak signals. His discriminating mind will therefore take above all else an interest into what's mysterious, hidden, secret — no matter whether true or fake. Frenzied curiosity for what's marginal or underlying; chase for an insane dominion over others by giving the impression that one knows a great deal about what others ignore: hints, veiled threats, blackmail, insidious propaganda. Over-negativism: dramatizing, painting a bleak picture, systematic pessimism, ill-boding, etc. Over-scheming: one wants to win on all fronts by excessively manipulating what's known and unknown to the others.
Paradoxical phase for Aquarius: the unrealistic. One gives much prominence to what's positive or promising, while playing down the realities that are negative, that incite pessimism or fatalism. A mere nothing is enough to discern anything wonderful, inspiring, extraordinary, unprecedented or marvellous, where others would just see something very commonplace and usual. Thoughtless optimism, visionary imagination disconnected from practical realities; tendency to establish one's domination over the others through the irrational, through colossal promises, puppet hopes, magic potions and miracle cures; through putting out smoke and mirrors. Mirages and pixie dust.

This article was brought to you by
English translation by Julien Rouger
Next article — Scorpio-Pisces: similarities and differences
See also:
---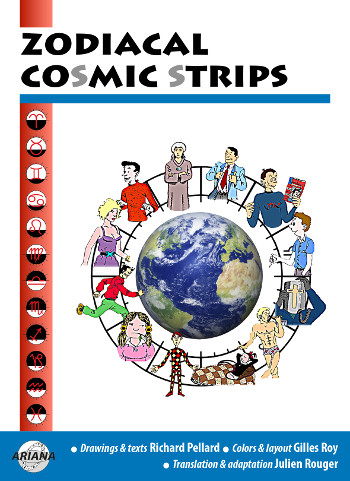 Zodiacal cosmic strips
32 pages. Color illustrations.
The portraits in comics of the 12 zodiac Signs. Discover the funny and educational caricatures, the qualities and defects of the Aries, the Taurus, the Gemini, the Cancer, the Leo, the Virgo, the Libra, the Scorpio, the Sagittarius, the Capricorn, the Aquarius, the Pisces in 24 original pages.
Download it right now from our shop