Adapted Aries and Aquarius
Similarity Aries-Aquarius: Excitation strength
Expending Excitation strength for Aries: the leader. First stage of the natural Excitation strength: daytime overrides nighttime, sweeps away its inhibitions and indifferences. An intact energetic potential that storms out and dashes into the environment. Animal aggressivity, pioneering activities, ardent and concrete sensations, absolute spontaneity, no a priori; an instinctive and powerful, dynamic and audacious force that pours out lavishly, a urge to take action that can't tolerate any delay or limitation.
Recreating Excitation strength for Aquarius: the reformer. One reacts against oblivion, disillusionment, disinterest; one refuses paralysis and renunciation: reinventing and transforming oneself, rejuvenating, being born again; renewing one's point of view, looking at things from an unprecedented perspective, telling oneself that nothing is ever lost for good, that hope is still possible; opening up closed structures, dusting off the ways of being, thinking or feeling, etc.
Difference Aries-Aquarius: No induction versus Positive induction
Positive induction for Aquarius: the full-of-hope. The eliminating Inhibition focuses onto a narrow field: one forgets the negative, the past, one banishes once and for all any dead values, any disenchantment, any incitement to pessimism. Thus immune to any germ of despair, one can build a brighter future, one can be sensitive to promises, to rising seeds, to optimistic perspectives.
Difference Aries-Aquarius: Excitation quickness versus Inhibition slowness
Excitation quickness for Aries: the improviser. First stage of the Excitation quickness: a lightning mobilization of Excitation supplies. Aries hits the ground running, reactions are immediate, decisions are sudden. Moves are made right off, reflexes are instantaneous. Hectic paces, unlimited speeding up. Cyclothymic temper, fast adaptation to the environment's fluctuations. Quick Excitation induces a liking for big effects: great fanfare, vivid colors, forceful picturesqueness.
Inhibition slowness for Aquarius: the visionary. The Aquarius remains open and receptive, no matter what, thanks to some monolithic, locked, immutable defence systems. He knows how to take shelter from the outside world, which he's basing all his hopes on. An optimistic but not a fool, he reckons that his resurrection ventures will be all the more efficient that he'll himself be stoical and steadfast in the face of adversity, not giving any ground to the others: there's no way that his intuition of new possibilities in the making gets diverted by the ebb and flow of circumstances.
Difference Aries-Aquarius: Sense of opposites versus Sense of proportions
Sense of opposites for Aries: the decision maker. First stage of the Sense of opposites, polarized by the Excitation strength and quickness: one takes sides without hesitation nor subtleties, one is bluntly for or against, up to manichaeism. Brutal frankness, unwillingness to compromise, "he who is not with me is against me". Since choices are quick, instinctive, thoughtless, adaptation might require calling these into question. In this case, complete turnarounds: what used to be adored is fought with equal violence.
Sense of proportions for Aquarius: the inventive. The Sense of syntheses gives way to the Sense of proportions: it's about an abstract unity that must be dissociated and concretized through choices. One is in search of original alliances and unprecedented proportions between the enthusiastic promotion of impersonal causes and the protection of individual freedom. One wants to show some solidarity while keeping one's room for manoeuvre, one wants to counterbalance optimism with a lucidity devoid of illusions. One strikes an efficient balance between prospective imagination and rigor, between perseverance and immediate opening to novelty. One is seeking domination in the name of abstract values so as to better free the other from past servitudes.
Unadapted Aries and Aquarius
Similarity Aries-Aquarius: Inhibition weakness
Eliminating Inhibition weakness for Aries: the impulsive. Aries is unable to develop any indifference, to stay stone-faced, to remain phlegmatic. Difficulty or impossibility to forget, to boycot, to wipe the slate clean. He charges in no matter what, driven to intoxication by the present moment. He's fearless, impulsive, impatient, daredevil, short-sighted. The weakness of oblivion underlines the importance of memory: first impressions are indelible. The lack of distance, therefore of thought, makes him naive, gullible, ready to believe anything.
Recovering Inhibition weakness for Aquarius: the bottomless pit. One can't take a break in order to cool off, to have some rest, to recover: feverish excitement, exhausting bustle. One doesn't put down any roots, one isn't able to use one's natural environment for thriving, for saving one's strength. One pushes oneself too hard: no resistance, no stability, no practical interests. Prodigality, thoughtlessness, lack of foresight, lack of animal prudence. The grasshopper from the fable, the rolling stone, the absence of solid foundation.
Difference Aries-Aquarius: Unadapted Inhibition slowness versus Unadapted Excitation quickness
Unadapted Inhibition slowness for Aries: the intractable. The brake is difficult to maneuver. Two solutions are possible. Either braking is impossible: impulsiveness has no limits anymore, it's a constant accident, a vertigo of ceaseless confrontation with the external environment, an endless going overboard. Or rebooting is impossible: he managed to brake but can't release the brake anymore. He then builds himself monolithic and unilateral defence systems. His refusals are rigid and never change, whatever the situation is. Entrenched, morbid resentment and grudges. The imagination is fascinated by legends, by baroque myths.
Unadapted Excitation quickness for Aquarius: the restless. With the Inhibition weakness, it's expressed with great ease: brisk, unexpected, unpredictable reactions; rollercoaster mood swings, euphoric exaltations for no reason, inopportune improvisations, attraction for scandals, going overboard, abrupt segues, slip-ups, pathological cyclothymia; perfunctory attempts to take actions that fizzle out, constant fantasia, quick comprehension or fickle feelings that don't leave any trace afterwards.
Difference Aries-Aquarius: Egalitarian phase versus Paradoxical phase
Egalitarian phase for Aries: the all-for-nothing. A monochrome aggressivity incites to fight everything altogether: everything is rejected and tarred with the same brush. Visceral hostility against "Tweedledums and Tweedledees". Everyone is wrong, friends as well as enemies. Good is not better than evil. Narrow-minded refusals, mind deafness, rigid personal philosophy that mustn't be questioned by anyone. The perception of antagonisms, once shifted to abstraction, amounts to a "me against the whole world".
Paradoxical phase for Aquarius: the unrealistic. One gives much prominence to what's positive or promising, while playing down the realities that are negative, that incite pessimism or fatalism. A mere nothing is enough to discern anything wonderful, inspiring, extraordinary, unprecedented or marvellous, where others would just see something very commonplace and usual. Thoughtless optimism, visionary imagination disconnected from practical realities; tendency to establish one's domination over the others through the irrational, through colossal promises, puppet hopes, magic potions and miracle cures; through putting out smoke and mirrors. Mirages and pixie dust.
This article was brought to you by
English translation by Julien Rouger
Next article — Aries-Pisces: similarities and differences
See also:
---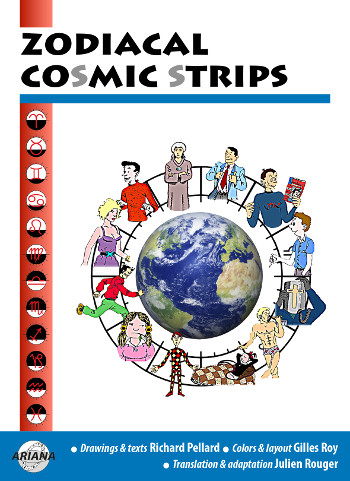 Zodiacal cosmic strips
32 pages. Color illustrations.
The portraits in comics of the 12 zodiac Signs. Discover the funny and educational caricatures, the qualities and defects of the Aries, the Taurus, the Gemini, the Cancer, the Leo, the Virgo, the Libra, the Scorpio, the Sagittarius, the Capricorn, the Aquarius, the Pisces in 24 original pages.
Download it right now from our shop