The interpretation examples that we are suggesting are very far from being exhaustive: they only show and outline a general frame describing the problematics of this planetary function. They should therefore not be taken literally. Each being brings indeed its own responses, more or less original, to the issues raised by a planetary function. Through using the R.E.T. and the Theory of ages and combining logic, observation and imagination, you will be able to develop a thousand other possible meanings, a thousand other variations on the same theme. To find out which Planets are dominant in your birth chart, please feel free to visit our website and get your free mini-astrological portrait with our software Astrosoft.
The plutonian profile
Extensive transcendence : You are in direct contact with the profound complexity of beings, things and situations. Mysterious and multiple, elusive and cryptic, ambivalent and unclassifiable, you cultivate your mysteries and your obscure secret gardens, you roam your inner mazes and you jealously preserve your inviolable shadowy side. Aloof, cold, impenetrable, you strive to keep your mind devoid of any certainty and your heart free from any attachment ; you endeavour not to delude yourself about anything nor anybody. Your subtlety is deep, your lucidity caustic, your intuitions perceptive. You have a gift for silently and insidiously influencing the course of events. Without any prejudice, you reserve the option of imagining every possible scenario in order to carve your own path through life, not out of opportunism but because you know that nothing is permanent. Discreetly domineering, fiercely independent, you are not driven by will or desire, but rather by a deaf, dumb and deep inner necessity leading you towards an unknown future.
Intensive transcendence : You are a complete sceptic. You don't believe in anything and you are not even sure believing in nothing. Nothing or almost nothing finds favour with your inquisitive and suspicious mind that always needs to discover the hidden dimension of beings and things, what goes on behind the scenes of situations. A merciless critic, you acutely perceive where the shoe pinches, where any explanation becomes meaningless. You debunk, demystify, strip away the masks and veils that conceal the profound reality, unconcerned about how such an approach might be unbearable, nerve-wracking and disturbing for the human mind eager for comforting certainties and make-believes ; unless you retreat into a silence with unfathomable density so as to stress to what extent you don't subscribe to anything. With infinite patience, you distance yourself from everything, put everything into perspective, play down everything, your achievements as well as your failures : for your very long-term focused consciousness, these are just trials and tribulations along a journey with a distant and unknown outcome.
Original article published in French in issue #4 of Astrologie naturelle (December 1998)
This article was brought to you by
English translation by Julien Rouger
Next article — The Lunar: Psychological profile
---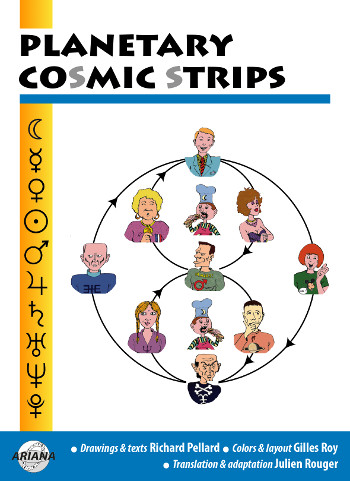 Planetary cosmic strips
30 pages. Color illustrations.
The portraits in comics of the 10 Planets. Discover the funny and educational caricatures, the qualities and defects of the Lunar, the Mercurian, the Venusian, the Solar, the Marsian, the Jupiterian, the Saturnian, the Uranian, the Neptunian, the Plutonian in 20 original pages.
Download it right now from our shop
All rights reserved. © 2003–2023
Richard Pellard
. Prohibited reproduction.
Webmaster:
Julien Rouger
AstroAriana — Website realized with
SPIP