Disclaimer
A detailed interpretation of the meanings of a dominant Jupiter in Sagittarius will soon be available on our website. In the meantime, we offer you the interpretation sections below. The first one begins by summarizing the meanings of a dominant Jupiter (without Sign): the characteristics of the Planet in itself prevail indeed over the characteristics of the Planet in Sign.
The two subsequent sections give an overview of the combinations between Planets and Signs by associating Sagittarius on the one hand with the R.E.T. characteristics of Jupiter on the other hand : Extensive existence ('E') and intensive representation ('r'). Keep in mind that these texts are only valid when the relevant R.E.T. families are dominant as a whole : Jupiter-Mars-Saturn for the 'E' family and Sun-Jupiter-Uranus for the 'r' family. To deduce the characteristics associated with Jupiter alone, you will have to disregard the characteristics associated with Mars and Saturn for the 'E' family, as well as the characteristics associated with the Sun and Uranus for the 'r' family.
The jupiterian profile
Extensive existence : You are above all an organized pragmatic person. Dynamic, jovial, bon vivant, proactive, you take absolutely seriously the realities of existence, of which you intend not losing any opportunity. You have some know-how, some common sense, a practical logic that enables you to tackle concrete problems head-on and to use them in your best interests. Empirical and reasonable, regardful of economic prosperity, you know how to get simple, useful and profitable lessons out of your experiences. You know how to put some order in your perception of things, to discipline your daily life, to hierarchize your desires and needs, to regulate your activity according to some precise norms. Confident, self-assured, you feel at ease in the world of material realities that you turn into a springboard for your ambitions. Expansive, cheerful, rather optimistic, you give yourself the means to be able to enjoy healthily and in abundance the good things in life, without ever losing sight of your practical interests. Each of your actions is useful, productive, organized, directed towards a specific purpose.
Intensive representation : You know what you want, and you give yourself the necessary means to get it. Ambitious, full of authority, imperious, regardful of your social impact, you intend to fully play the role that is yours within the society you belong to. You are always ready to take the initiative in order to exchange, to negotiate and to cooperate with the others, to make yourself useful so as to showcase yourself. You have talents as an educationalist, a lawyer, a diplomat, a leader, and you have top-level language skills : you know how to smoothly and clearly communicate your wishes, explain your intentions, convince your interlocutors of the legitimacy of your worldview. Your judgments are imperious, driven by common sense. A hard-working and self-willed manager, gifted with a sense for organization, you stand out as a person of experience and you are talented for bringing some structure, logic and order in everything you do. You want to be recognized for your practical skills, for your ability to play by the rules of the social game, to make yourself useful — if not irreplaceable.
Active-pragmatic Sagittarius
▶ Your strengths : with a contagious participatory enthusiasm, you like to take things head on and fearlessly launch an assault on facts to bend them to your will and your ambitions. Full of common sense, pragmatism and realism, you can carry out several activities that you coordinate easily thanks to your sense of organization and management. Teamwork stimulates your combative and accomplishing ardor : better than others, you know how to fully cooperate with others while remaining independent. Dynamic and constructive, you are not afraid to confront tangible realities which are a springboard for you to always go further…
▶ Your weaknesses : the seemingly inexhaustible energy you show to assault tangible realities actually has its limits, but you do not perceive them, carried away by your impetuous and reckless movement. Your common sense is too often overwhelmed by your taste for risky challenges, risky bets. You are tempted by a headlong rush into a disorderly activism that encourages you to neglect all tangible security, all lasting roots. The only master on board of your existence that you want unhindered, contemptuous of everyday problems, your unlimited expansionism risks bringing you many setbacks in your businesses if you do not learn to control yourself.
Ambitious-resolute Sagittarius
▶ Your strengths : you have powerful ambitions and you do not hide it : you want to play an important social role, to belong to the elite, to the club of decision-makers, people recognized, respected and admired for their ability to take on heavy responsibilities. You are ready to be exemplary in all respects, to show others the route to follow, to enforce, in the name of the common good and the superior and demanding values that inhabit you, the laws and rules of the society in which you live. Voluntary, energetic, dynamic and loving unity, you are good at leading large groups. A master of public speaking, you easily find the words and formulas to simplify the most complex problems.
▶ Your weaknesses : despite the few firm principles that drive you, you risk being hostage to a real frenzy of power and domination that can lead you to be excessively opportunistic and to eat at all the racks to satisfy your ambitions. Authoritative and pompous, solemn and pretentious, you too often let your pride blind you. Too sure of yourself and inflated with your own importance, you risk experiencing many setbacks in your oversized projects by dint of making risky, cookie-cutter decisions, for the simple pleasure of imposing your mark on events and to demonstrate how superbly you are capable of ignoring the weight of concrete circumstances.
---
---
---
This article was brought to you by
English translation by Julien Rouger
Next article — Jupiter in Capricorn
See also:
---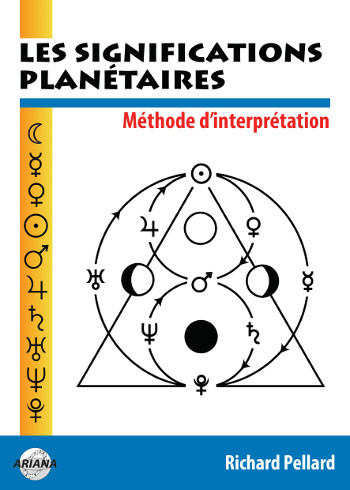 Les significations planétaires
par Richard Pellard
620 pages. Illustrations en couleur.
La décision de ne traiter dans ce livre que des significations planétaires ne repose pas sur une sous-estimation du rôle des Signes du zodiaque et des Maisons. Le traditionnel trio Planètes-Zodiaque-Maisons est en effet l'expression d'une structure qui classe ces trois plans selon leur ordre de préséance et dans ce triptyque hiérarchisé, les Planètes occupent le premier rang.
La première partie de ce livre rassemble donc, sous une forme abondamment illustrée de schémas pédagogiques et tableaux explicatifs, une édition originale revue, augmentée et actualisée des textes consacrés aux significations planétaires telles qu'elles ont été définies par l'astrologie conditionaliste et une présentation détaillée des méthodes de hiérarchisation planétaire et d'interprétation accompagnées de nombreux exemples concrets illustrés par des Thèmes de célébrités.
La deuxième partie est consacrée, d'une part à une présentation critique des fondements traditionnels des significations planétaires, d'autre part à une présentation des rapports entre signaux et symboles, astrologie et psychologie. Enfin, la troisième partie présente brièvement les racines astrométriques des significations planétaires… et propose une voie de sortie de l'astrologie pour accéder à une plus vaste dimension noologique et spirituelle qui la prolonge et la contient.
Téléchargez-le dès maintenant dans notre boutique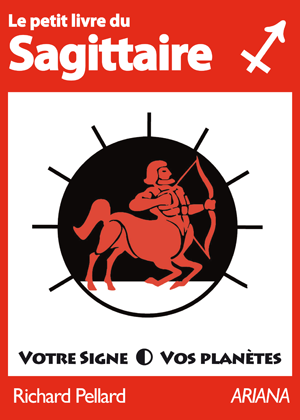 Le petit livre du Sagittaire
par Richard Pellard
49 pages. Illustrations en couleur.
Ce livre présente et explique les trois zodiaques : celui du décor des constellations, celui de l'astrologie traditionnelle basé sur les Quatre Éléments symboliques (Feu, Terre, Air & Eau) et celui de l'astrologie naturelle basé sur les phénomènes astronomiques objectifs.
Interprétation du Sagittaire selon la symbolique classique et selon ses réflexes dans le zodiaque naturel (force, vitesse, équilibre) ; interprétation du Sagittaire en fonction des planètes dominantes ; le Signe solaire & le Signe Ascendant.
Téléchargez-le dès maintenant dans notre boutique
All rights reserved. © 2003–2023
Richard Pellard
. Prohibited reproduction.
Webmaster:
Julien Rouger
AstroAriana — Website realized with
SPIP