Disclaimer
A detailed interpretation of the meanings of a dominant Pluto in Taurus will soon be available on our website. In the meantime, we offer you the interpretation sections below. The first one begins by summarizing the meanings of a dominant Pluto (without Sign): the characteristics of the Planet in itself prevail indeed over the characteristics of the Planet in Sign.
The two subsequent sections give an overview of the combinations between Planets and Signs by associating Taurus on the one hand with the R.E.T. characteristics of Pluto on the other hand : Extensive Transcendence ('T') and intensive transcendence ('t'). Keep in mind that these texts are only valid when the relevant R.E.T. families are dominant as a whole : Uranus-Neptune-Pluto for the 'T' family and Mercury-Saturn-Pluto for the 't' family. To deduce the characteristics associated with Pluto alone, you will have to disregard the characteristics associated with Uranus and Neptune for the 'T' family, as well as the characteristics associated with Mercury and Saturn for the 't' family.
The plutonian profile
Extensive transcendence : You are in direct contact with the profound complexity of beings, things and situations. Mysterious and multiple, elusive and cryptic, ambivalent and unclassifiable, you cultivate your mysteries and your obscure secret gardens, you roam your inner mazes and you jealously preserve your inviolable shadowy side. Aloof, cold, impenetrable, you strive to keep your mind devoid of any certainty and your heart free from any attachment ; you endeavour not to delude yourself about anything nor anybody. Your subtlety is deep, your lucidity caustic, your intuitions perceptive. You have a gift for silently and insidiously influencing the course of events. Without any prejudice, you reserve the option of imagining every possible scenario in order to carve your own path through life, not out of opportunism but because you know that nothing is permanent. Discreetly domineering, fiercely independent, you are not driven by will or desire, but rather by a deaf, dumb and deep inner necessity leading you towards an unknown future.
Intensive transcendence : You are a complete sceptic. You don't believe in anything and you are not even sure believing in nothing. Nothing or almost nothing finds favour with your inquisitive and suspicious mind that always needs to discover the hidden dimension of beings and things, what goes on behind the scenes of situations. A merciless critic, you acutely perceive where the shoe pinches, where any explanation becomes meaningless. You debunk, demystify, strip away the masks and veils that conceal the profound reality, unconcerned about how such an approach might be unbearable, nerve-wracking and disturbing for the human mind eager for comforting certainties and make-believes ; unless you retreat into a silence with unfathomable density so as to stress to what extent you don't subscribe to anything. With infinite patience, you distance yourself from everything, put everything into perspective, play down everything, your achievements as well as your failures : for your very long-term focused consciousness, these are just trials and tribulations along a journey with a distant and unknown outcome.
Imaginative-inspired Taurus
▶ Your strengths : you are a refractory who intends to live according to your own rules and your own laws, to the rhythm of your inspirations that you draw only from the depths of yourself. Your compact silences mask deep inner aspirations that you make it your business to pursue with invariable tenacity. You seem unshakable, rigorously sheltered from all influence, screwed inside yourself by a dark force that encourages you to focus all your energy on the pursuit of your bizarre projects. Coming out of your silences, your positions or sudden reactions are surprising, improbable, paradoxical, sometimes incomprehensible. You are inhabited by a hermetic elsewhere that you express in your own way, without worrying about others.
▶ Your weaknesses : the risk for you is to find yourself frozen inside yourself, prisoner of your whimsical and unverifiable intuitions which will become for you so many certainties as dogmatic as they are indemonstrable. You can come to believe that you are the hostage of a fatal fate against which you can do nothing, while sneakily wallowing in your riddles, displaying your difference through unsocial and whimsical behaviors that further isolate you from social life and tangible realities. Your imagination cut off from reality goes to great lengths for the tiniest details that can become the raw material for your delusions of interpretation.
Critical-aloof Taurus
▶ Your strengths : It is difficult to wrest from you an approval, assent, a movement of frank acceptance in the face of what is proposed to you : you never depart from a skeptical circumspection, a thoughtful mistrust, a critical prudence. Whatever happens to you, whatever is said to you, you demand to see and observe the world around you with unindulgent insight. You don't want to be fooled by empty talk, false promises, reassuring illusions. Worried, inquisitive, you look behind the scenes and are never satisfied with anything or anyone, neither yourself nor others. Fond of paradoxes and subtleties, you have a taste for deepening.
▶ Your weaknesses : refractory tendencies and "paranoid" of Taurus are pushed to the extreme here. You systematically split hairs, suspect everyone of veiled bad intentions, underground plots, unmentionable maneuvers. You only seem able to focus your attention on the bad side of things, complicate everything at your leisure, sometimes even getting lost in your riddles, finding yourself prisoner in your dead-end labyrinths. Pessimistic, disillusioned and hopeless, worried, anxious and perpetually dissatisfied, you endlessly dwell on your eternal unanswered questions and your anxieties that wall you in on yourself and prohibit all contact.
---
---
---
This article was brought to you by
English translation by Julien Rouger
Next article — Pluto in Gemini
See also:
---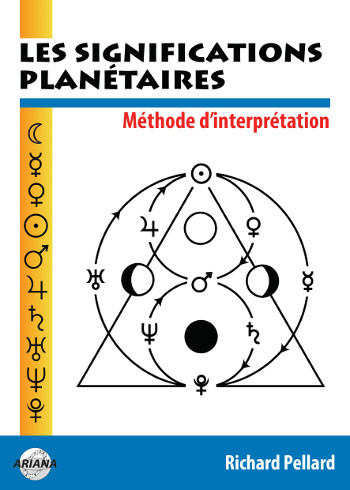 Les significations planétaires
par Richard Pellard
620 pages. Illustrations en couleur.
La décision de ne traiter dans ce livre que des significations planétaires ne repose pas sur une sous-estimation du rôle des Signes du zodiaque et des Maisons. Le traditionnel trio Planètes-Zodiaque-Maisons est en effet l'expression d'une structure qui classe ces trois plans selon leur ordre de préséance et dans ce triptyque hiérarchisé, les Planètes occupent le premier rang.
La première partie de ce livre rassemble donc, sous une forme abondamment illustrée de schémas pédagogiques et tableaux explicatifs, une édition originale revue, augmentée et actualisée des textes consacrés aux significations planétaires telles qu'elles ont été définies par l'astrologie conditionaliste et une présentation détaillée des méthodes de hiérarchisation planétaire et d'interprétation accompagnées de nombreux exemples concrets illustrés par des Thèmes de célébrités.
La deuxième partie est consacrée, d'une part à une présentation critique des fondements traditionnels des significations planétaires, d'autre part à une présentation des rapports entre signaux et symboles, astrologie et psychologie. Enfin, la troisième partie présente brièvement les racines astrométriques des significations planétaires… et propose une voie de sortie de l'astrologie pour accéder à une plus vaste dimension noologique et spirituelle qui la prolonge et la contient.
Téléchargez-le dès maintenant dans notre boutique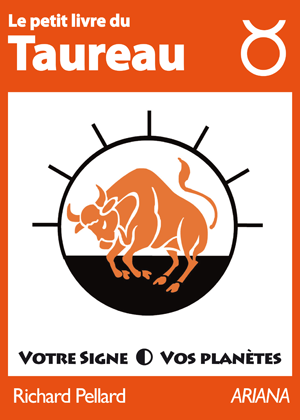 Le petit livre du Taureau
par Richard Pellard
49 pages. Illustrations en couleur.
Ce livre présente et explique les trois zodiaques : celui du décor des constellations, celui de l'astrologie traditionnelle basé sur les Quatre Éléments symboliques (Feu, Terre, Air & Eau) et celui de l'astrologie naturelle basé sur les phénomènes astronomiques objectifs.
Interprétation du Taureau selon la symbolique classique et selon ses réflexes dans le zodiaque naturel (force, vitesse, équilibre) ; interprétation du Taureau en fonction des planètes dominantes ; le Signe solaire & le Signe Ascendant.
Téléchargez-le dès maintenant dans notre boutique
All rights reserved. © 2003–2023
Richard Pellard
. Prohibited reproduction.
Webmaster:
Julien Rouger
AstroAriana — Website realized with
SPIP