"Big T" issue (extensive Transcendance). How to blend switching from the multiple to the unique (Uranus 'rT') with switching from the multiple to the duo-duel (Neptune 'eT')? How to operate together an uncompromising voluntarism and unpredictable moods? How to assert one's intuitive convictions while experiencing strange sensations? This aspect excludes levels 'R' (communicative sociability), 'E' (sense of the concrete) and 't' (cold critical thinking).
Consonant (consonant conjunction, trine, sextile)
You are endowed with an incredibly accurate intuition that makes you react, without even having to think about it, with flair and appropriateness in your experience, with rigor and clarity in your vision of the world. Very independent, you determine yourself emotionally and intellectually according to injunctions coming from within yourself, which you trust and blindly obey. You're right : they magically tell you what to do and what program to run. Your uncompromising voluntarism is coupled with a great sense of the human and the collective. Inspired and charismatic, organized and far-sighted, you lead your troops by spending yourself with such contagious generosity that it is difficult not to follow the great causes or theories that you defend and promote with ardor and conviction. Your rich and abundant imagination unfolds freely and gives birth to new, surprising, audacious and original ways of living and thinking.
Dissonant (dissonant conjunction, opposition, square)
Balanced dissonance : you switch alternately from an uncompromising voluntarism (Uranus) to unpredictable nebulous moods (Neptune), without being able to bring yourself to choose. Depending on whether one or the other function dominates in your experience, you can adopt the following attitudes :
If and when Uranus dominates : you are the hostage of intuitively revealed certainties, clear-cut and dogmatic, which seem to prevent your thinking from any flexibility, any nuance, any subtle paradox, that is to say any approach to the deeply moving and chiaroscuro dynamics of the living. Your cavalier individualism, your intransigent voluntarism and your intolerant despotism render you incapable of any humble sharing, of any collective communion whatsoever. You want to emerge from the uncertain at all costs, to show yourself as a beacon in the fog. To do this you fight, with diktats, ukases or arbitrary theories, everything that in the field of your blinkers is assimilated to the vague, the imprecise, the undulating : the half-certainties of a living faith, adherence body and soul to what we do not understand, the mysteries of a universal and unnamable love.
If and when Neptune dominates : you live in a complete fog, indifferent or blind to the slightest light that could emerge from it and illuminate it, in a total confusion of senses, spirit and values. Your inner world is an inextricable mess, a tumultuous shambles where intuitions, moods, imaginary productions and utopias pile up and mix pell-mell, in a total lack of order, hierarchy and organization. Haunted by your aspiration for a chimerical or improbable other life, richer, more united and in communion with the invisible and the mystery of things, you multiply your pious wishes and declarations of universal love at the risk of depersonalizing yourself, of losing any sense of your individuality. You pray for a miracle when you have to make strong decisions to change the course of things.
If you learned to control this dissonance, you know that there is a time for asserting your individual originality and a time for listening to your intuitive feelings, and know how to flawlessly alternate these two functions.
If you managed to sublimate this dissonance, you have deliberately sacrificed any excessively systematic conceptualization for the sake of emotionally connecting to your inner self ; or you have abdicated any wild mystical dreams in favour of a fertile creative will.
This article was brought to you by
English translation by Julien Rouger
Next article — Uranus-Pluto aspect
See also:
▶ Introduction aux significations planétaires
▶ The Uranian: Psychological profile
▶ La fonction uranienne 'rT' (représentation de la Transcendance)
▶ The time beyond: from Neptune to Pluto
▶ Uranus-Neptune-Pluto: extensive Transcendence
▶ Sun-Jupiter-Uranus: intensive representation
▶ Uranus
▶ The Neptunian: Psychological profile
▶ The neptunian function 'eT' (existence of Transcendence)
▶ Uranian stage (from 30 to 84 years old): the age of individualization
▶ Neptunian stage (from 84 to 164 years old): the age of depersonalization
▶ Uranus-Neptune-Pluto: extensive Transcendence
▶ Venus-Mars-Neptune: intensive existence
---
Les significations planétaires
par Richard Pellard
620 pages. Illustrations en couleur.
La décision de ne traiter dans ce livre que des significations planétaires ne repose pas sur une sous-estimation du rôle des Signes du zodiaque et des Maisons. Le traditionnel trio Planètes-Zodiaque-Maisons est en effet l'expression d'une structure qui classe ces trois plans selon leur ordre de préséance et dans ce triptyque hiérarchisé, les Planètes occupent le premier rang.
La première partie de ce livre rassemble donc, sous une forme abondamment illustrée de schémas pédagogiques et tableaux explicatifs, une édition originale revue, augmentée et actualisée des textes consacrés aux significations planétaires telles qu'elles ont été définies par l'astrologie conditionaliste et une présentation détaillée des méthodes de hiérarchisation planétaire et d'interprétation accompagnées de nombreux exemples concrets illustrés par des Thèmes de célébrités.
La deuxième partie est consacrée, d'une part à une présentation critique des fondements traditionnels des significations planétaires, d'autre part à une présentation des rapports entre signaux et symboles, astrologie et psychologie. Enfin, la troisième partie présente brièvement les racines astrométriques des significations planétaires… et propose une voie de sortie de l'astrologie pour accéder à une plus vaste dimension noologique et spirituelle qui la prolonge et la contient.
Téléchargez-le dès maintenant dans notre boutique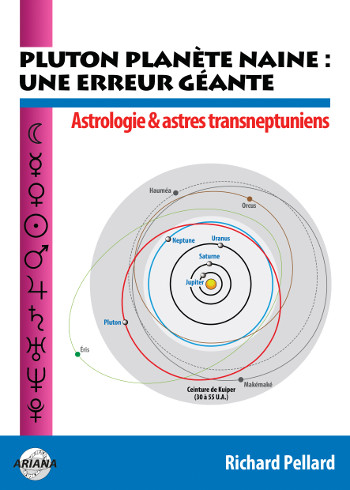 Pluton planète naine : une erreur géante
par Richard Pellard
117 pages. Illustrations en couleur.
Pluton ne fait plus partie des planètes majeures de notre système solaire : telle est la décision prise par une infime minorité d'astronomes lors de l'Assemblée Générale de l'Union Astronomique Internationale qui s'est tenue à Prague en août 2006. Elle est reléguée au rang de "planète naine", au même titre que les nombreux astres découverts au-delà de son orbite.
Ce livre récapitule et analyse en détail le pourquoi et le comment de cette incroyable et irrationnelle décision contestée par de très nombreux astronomes de premier plan. Quelles sont les effets de cette "nanification" de Pluton sur son statut astrologique ? Faut-il remettre en question son influence et ses significations astro-psychologiques qui semblaient avérées depuis sa découverte en 1930 ? Les "plutoniens" ont-ils cessé d'exister depuis cette décision charlatanesque ? Ce livre pose également le problème des astres transplutoniens nouvellement découverts. Quel statut astrologique et quelles influences et significations précises leur accorder ?
Enfin, cet ouvrage propose une vision unitaire du système solaire qui démontre, chiffes et arguments rationnels à l'appui, que Pluton en est toujours un élément essentiel, ce qui est loin d'être le cas pour les autres astres au-delà de son orbite. Après avoir lu ce livre, vous saurez quoi répondre à ceux qui pensent avoir trouvé, avec l'exclusion de Pluton du cortège planétaire traditionnel, un nouvel argument contre l'astrologie !
Téléchargez-le dès maintenant dans notre boutique
All rights reserved. © 2003–2023
Richard Pellard
. Prohibited reproduction.
Webmaster:
Julien Rouger
AstroAriana — Website realized with
SPIP