Adapted Aries and Pisces
Difference Aries-Pisces: Excitation strength versus Inhibition strength
Expending Excitation strength for Aries: the leader. First stage of the natural Excitation strength: daytime overrides nighttime, sweeps away its inhibitions and indifferences. An intact energetic potential that storms out and dashes into the environment. Animal aggressivity, pioneering activities, ardent and concrete sensations, absolute spontaneity, no a priori; an instinctive and powerful, dynamic and audacious force that pours out lavishly, a urge to take action that can't tolerate any delay or limitation.
Eliminating Inhibition strength for Pisces: the uncatchable. The indifference of the Inhibition strength is all the stronger that it must withstand the growth of daytime — which will become dominant in Aries, the following Sign. Not letting oneself being touched, reached or shaken by anything nor anyone. Deconditioning oneself, making a clean sweep of all the pressing solicitations from the outside world. Slipping out of the usual ways of reacting, loving or thinking. Withdrawing from the surrounding world so as to be fully present to oneself, to the absolute one is aiming at. The appearance of adaptation to everything actually masks a total indifference.
Difference Aries-Pisces: Excitation quickness versus Inhibition slowness
Excitation quickness for Aries: the improviser. First stage of the Excitation quickness: a lightning mobilization of Excitation supplies. Aries hits the ground running, reactions are immediate, decisions are sudden. Moves are made right off, reflexes are instantaneous. Hectic paces, unlimited speeding up. Cyclothymic temper, fast adaptation to the environment's fluctuations. Quick Excitation induces a liking for big effects: great fanfare, vivid colors, forceful picturesqueness.
Inhibition slowness for Pisces: the placid. The monolithic, locked, unshakeable defence systems are an efficient anti-environment barrier: peaceful, tenacious and serene refusal of the external hubbubs, quiet and progressive decantation, absolute immobility out of silent rejection of any impulsive reaction, indifferent placidity towards everything that's going on around oneself — allowing to give free rein to one's intuition.
Similarity Aries-Pisces: Sense of opposites
Sense of opposites for Aries: the decision maker. First stage of the Sense of opposites, polarized by the Excitation strength and quickness: one takes sides without hesitation nor subtleties, one is bluntly for or against, up to manichaeism. Brutal frankness, unwillingness to compromise, "he who is not with me is against me". Since choices are quick, instinctive, thoughtless, adaptation might require calling these into question. In this case, complete turnarounds: what used to be adored is fought with equal violence.
Sense of opposites for Pisces: the invisible choice. Without really knowing exactly what one wants, one is able to perfectly, systematically and patiently eliminate, refuse and boycott what one doesn't want. One postpones one's response to opposing options. Until things settle out quietly and the way one must choose appears at the end of this decantation, one prefers edging one's way between antagonisms, escaping too clear-cut dialectics, straddling the fence so as not to be trapped into simplistic dualisms. One wears out one's adversaries by not responding. One lives in a static world where opposites are ever more equal, identical, yet different: there is a strong temptation trying to find a "third way" in order to transcend false oppositions.

Unadapted Aries and Pisces
Difference Aries-Pisces: Inhibition weakness versus Excitation weakness
Eliminating Inhibition weakness for Aries: the impulsive. Aries is unable to develop any indifference, to stay stone-faced, to remain phlegmatic. Difficulty or impossibility to forget, to boycot, to wipe the slate clean. He charges in no matter what, driven to intoxication by the present moment. He's fearless, impulsive, impatient, daredevil, short-sighted. The weakness of oblivion underlines the importance of memory: first impressions are indelible. The lack of distance, therefore of thought, makes him naive, gullible, ready to believe anything.
Expending Excitation weakness for Pisces: the forsaker. One has a hard time fighting, taking action, asserting oneself. Lethargic, apathetic, colourless behaviors; extreme passivity, excessive laziness, negligence, anxious refusal of the reality principle. Letting oneself being tossed around by the turbulent flow of circumstances, and come what may. Dependency, seclusiveness, immobility, despondency, inefficiency, powerlessness, oppressive incommunicability, deathly fear of having to confront oneself to the tough and real outside world.
Difference Aries-Pisces: Unadapted Inhibition slowness versus Unadapted Excitation quickness
Unadapted Inhibition slowness for Aries: the intractable. The brake is difficult to maneuver. Two solutions are possible. Either braking is impossible: impulsiveness has no limits anymore, it's a constant accident, a vertigo of ceaseless confrontation with the external environment, an endless going overboard. Or rebooting is impossible: he managed to brake but can't release the brake anymore. He then builds himself monolithic and unilateral defence systems. His refusals are rigid and never change, whatever the situation is. Entrenched, morbid resentment and grudges. The imagination is fascinated by legends, by baroque myths.
Unadapted Excitation quickness for Pisces: the hysteric. The unadapted Excitation quickness is expressed more easily than for the Capricorn since it's at the edge of adaptation (Aries). In the meanwhile, one can witness more or less restrained yet stormy passions, uncontrolled outbursts of anger, fits of blind rage, flushes of aggressivity, urges of hasty acting-out, all the more furious that they burst out involuntarily. Volatile mood that switches from apathy to revolted spite.
Similarity Aries-Pisces: Egalitarian phase
Egalitarian phase for Aries: the all-for-nothing. A monochrome aggressivity incites to fight everything altogether: everything is rejected and tarred with the same brush. Visceral hostility against "Tweedledums and Tweedledees". Everyone is wrong, friends as well as enemies. Good is not better than evil. Narrow-minded refusals, mind deafness, rigid personal philosophy that mustn't be questioned by anyone. The perception of antagonisms, once shifted to abstraction, amounts to a "me against the whole world".
Egalitarian phase-clash of opposites for Pisces: the nothing-at-all. Everything is equivalent, equal, indifferent. One doesn't mind anything either way. The world is flat, seamless, everything is just motionless order or disorder, absolute calm, infinite serenity. Hence an ultimate indifference, at best close to nirvana, at worst revealing of an absolute nihilism: passive non-choice ends up in being nothing in the whole, everything in the nothingness, and nothing at all. One is peacefully waiting until it makes, breaks or bores, or until the clash of opposites shatters all the good or bad reasons one has or believes having to choose one's side, one's way, one's destiny.

This article was brought to you by
English translation by Julien Rouger
Next article — Aries-Taurus: similarities and differences
See also:
---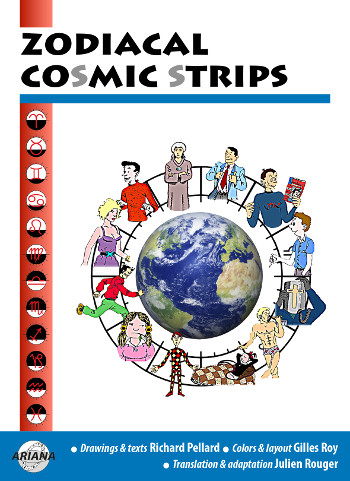 Zodiacal cosmic strips
32 pages. Color illustrations.
The portraits in comics of the 12 zodiac Signs. Discover the funny and educational caricatures, the qualities and defects of the Aries, the Taurus, the Gemini, the Cancer, the Leo, the Virgo, the Libra, the Scorpio, the Sagittarius, the Capricorn, the Aquarius, the Pisces in 24 original pages.
Download it right now from our shop