Adapted Leo and Pisces
Difference Leo-Pisces: Excitation strength versus Inhibition strength
Unblocking Excitation strength for Leo: the champion. The Leo reacts to any situation that encloses, delimits, ties up: to break free, to surpass oneself, to break one's chains, to get out the hood, to defeat one's opponents, to overcome encirclements, to refuse fate, paralysis, standstills, quagmires. To dare, to break away, to be a hero, to solve, to expand, to conquer, to be radiant, to clear obstacles, to increase one's power, to emancipate from any authority.
Eliminating Inhibition strength for Pisces: the uncatchable. The indifference of the Inhibition strength is all the stronger that it must withstand the growth of daytime — which will become dominant in Aries, the following Sign. Not letting oneself being touched, reached or shaken by anything nor anyone. Deconditioning oneself, making a clean sweep of all the pressing solicitations from the outside world. Slipping out of the usual ways of reacting, loving or thinking. Withdrawing from the surrounding world so as to be fully present to oneself, to the absolute one is aiming at. The appearance of adaptation to everything actually masks a total indifference.
Difference Leo-Pisces: Positive induction versus No induction
Positive induction for Leo: the conqueror. The concentration of protective Inhibition onto a narrow field allows to make the most precious immune, to keep the essential safe, to protect the vital core. From this bolted stronghold, one can take all the risks, all the braveries, one can radiate in complete safety. Open egocentricity, magnanimity, generosity, etc.
Difference Leo-Pisces: Excitation slowness versus Inhibition slowness
Excitation slowness for Leo: the infallible. The concern for organizing and mastering is clearly displayed: it's about declaredly legislating, having control, being in charge. High, persistent, persevering ambitions; strong, long-lasting, obsessing passions. Audaciousnesses are handled carefully, conquests are fortified and progressively extended. One thinks about everything, one aspires to be master of oneself, without leaving anything to chance. Radiant power due to a deep self-control.
Inhibition slowness for Pisces: the placid. The monolithic, locked, unshakeable defence systems are an efficient anti-environment barrier: peaceful, tenacious and serene refusal of the external hubbubs, quiet and progressive decantation, absolute immobility out of silent rejection of any impulsive reaction, indifferent placidity towards everything that's going on around oneself — allowing to give free rein to one's intuition.
Difference Leo-Pisces: Sense of proportions versus Sense of opposites
Sense of proportions for Leo: the magnanimous. The Sense of syntheses gives way to the Sense of proportions: one must strike a balance between complying with one's environment and finding one's own way out, one must combine offensive boldnesses with asset management, overcome adversity while remaining magnanimous, establish one's power without binding (too much) the others. One deals with the enemy in order to defeat him better. In the long run, the general interest (Sense of syntheses) might lose ground in favour of the Sense of opposites: one then reaps individually the benefits. Well-balanced ambivalence allows to be authoritarian while remaining liberal: this is the "long leash" policy, that consists in leaving a maximum of apparent freedom to the others in order to control them better.
Sense of opposites for Pisces: the invisible choice. Without really knowing exactly what one wants, one is able to perfectly, systematically and patiently eliminate, refuse and boycott what one doesn't want. One postpones one's response to opposing options. Until things settle out quietly and the way one must choose appears at the end of this decantation, one prefers edging one's way between antagonisms, escaping too clear-cut dialectics, straddling the fence so as not to be trapped into simplistic dualisms. One wears out one's adversaries by not responding. One lives in a static world where opposites are ever more equal, identical, yet different: there is a strong temptation trying to find a "third way" in order to transcend false oppositions.

Unadapted Leo and Pisces
Difference Leo-Pisces: Inhibition weakness versus Excitation weakness
Differentiating Inhibition weakness for Leo: the blunderer. No subtlety, no finesse, no sense of complex differentiating analyses: it's a bull in a china shop. No moderation, no tact, no reserve: he's clumsy, intrusive, oafish, puts his foot in his mouth. No sidestepping, no nuances, no crafty distinctions: the unadapted Leo lacks sophistication, is unable of having the minimum of targeted hypocrisy essential for the game of social relationships. He's simplistic, reckless, blunderer, humongous.
Expending Excitation weakness for Pisces: the forsaker. One has a hard time fighting, taking action, asserting oneself. Lethargic, apathetic, colourless behaviors; extreme passivity, excessive laziness, negligence, anxious refusal of the reality principle. Letting oneself being tossed around by the turbulent flow of circumstances, and come what may. Dependency, seclusiveness, immobility, despondency, inefficiency, powerlessness, oppressive incommunicability, deathly fear of having to confront oneself to the tough and real outside world.
Difference Leo-Pisces: Unadapted Inhibition quickness versus Unadapted Excitation quickness
Unadapted Inhibition quickness for Leo: the wimp. He frets over his personal freedom, his popularity, his outperforming power. He's irrationally afraid that the (real or imaginary) vulnerable spots of his armour are picked upon. This can be a gutsy on the defensive, aborting his bragging initiatives out of sudden fear of their results, even if this means bluffing or boasting in order to cover it up. Once facing real dangers, he prefers rushing headlong so as not to decline, unless he beats a hasty and shameful retreat in a panic beyond description.
Unadapted Excitation quickness for Pisces: the hysteric. The unadapted Excitation quickness is expressed more easily than for the Capricorn since it's at the edge of adaptation (Aries). In the meanwhile, one can witness more or less restrained yet stormy passions, uncontrolled outbursts of anger, fits of blind rage, flushes of aggressivity, urges of hasty acting-out, all the more furious that they burst out involuntarily. Volatile mood that switches from apathy to revolted spite.
Difference Leo-Pisces: Paradoxical phase versus Egalitarian phase
Paradoxical phase for Leo: the reckless. While really and objectively serious events only elicit his indifference, this doesn't apply whenever what he considers to be his vulnerable spots gets a minor blow. Tickle his pride and you will bring about some storms. Announce him a general catastrophe and he will keep his composure. He overvalues the feats, what's enormous or ornamental; he plays down what's insignificant, subtle, underlying. He underestimates real obstacles, serious dangers and keeps a blind faith into bold challenges, rash initiatives. Showing too much his desire to win and to dominate, he's likely to get his victories stolen by smarter ones.
Egalitarian phase-clash of opposites for Pisces: the nothing-at-all. Everything is equivalent, equal, indifferent. One doesn't mind anything either way. The world is flat, seamless, everything is just motionless order or disorder, absolute calm, infinite serenity. Hence an ultimate indifference, at best close to nirvana, at worst revealing of an absolute nihilism: passive non-choice ends up in being nothing in the whole, everything in the nothingness, and nothing at all. One is peacefully waiting until it makes, breaks or bores, or until the clash of opposites shatters all the good or bad reasons one has or believes having to choose one's side, one's way, one's destiny.

This article was brought to you by
English translation by Julien Rouger
Next article — Leo-Virgo: similarities and differences
See also:
---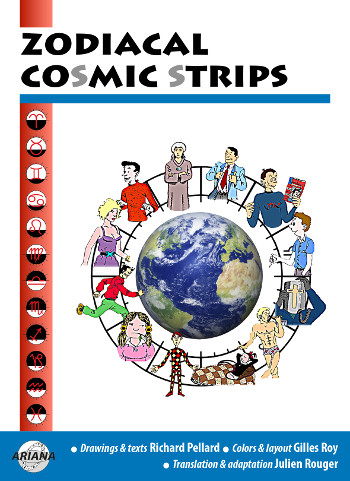 Zodiacal cosmic strips
32 pages. Color illustrations.
The portraits in comics of the 12 zodiac Signs. Discover the funny and educational caricatures, the qualities and defects of the Aries, the Taurus, the Gemini, the Cancer, the Leo, the Virgo, the Libra, the Scorpio, the Sagittarius, the Capricorn, the Aquarius, the Pisces in 24 original pages.
Download it right now from our shop