Adapted Taurus and Pisces
Similarity Taurus-Pisces: Inhibition strength
Recovering Inhibition strength for Taurus: the objector. Reaction to the excesses of Excitation for Aries: one calms down, one becomes distrustful, mistrustful, sceptical. One controls and regulates one's vital energy, one disciplines one's strength, one recovers. One instinctively resists excitement, waste, or impatience. One steps aside in order to be at peace, one maintains one's psychological or physical health, one paces oneself and sets one's force of inertia against the outside world's stimulations.
Eliminating Inhibition strength for Pisces: the uncatchable. The indifference of the Inhibition strength is all the stronger that it must withstand the growth of daytime — which will become dominant in Aries, the following Sign. Not letting oneself being touched, reached or shaken by anything nor anyone. Deconditioning oneself, making a clean sweep of all the pressing solicitations from the outside world. Slipping out of the usual ways of reacting, loving or thinking. Withdrawing from the surrounding world so as to be fully present to oneself, to the absolute one is aiming at. The appearance of adaptation to everything actually masks a total indifference.
Difference Taurus-Pisces: Negative induction versus No induction
Negative induction for Taurus: the obsessive. The Excitation strength focuses onto a specific object that gets invested with one's full energy, one's full work power: one doesn't let oneself getting sidetracked by anything else, one swots one's topic, one goes further into one's subject, one takes specialization to extremes. Exclusive passion, monomania, obsessive crazes.
Difference Taurus-Pisces: Excitation quickness versus Inhibition slowness
Excitation quickness for Taurus: the earthy. Brisk, quick, energetic reactions for everything regarding the target of induction: the Taurus only livens up for the object of his passion, otherwise he remains calm, placid, quiet. Even when there is an overdose of external stimulations, adaptation necessarily requires taking into account the concrete facts about the situation. Conversely, unadaptation allows to take refuge into real or imaginary abstractions. Whenever the Inhibition cracks up, the placid turns into a storm, the slightest straw breaks the camel's back. If the Inhibition is medium, the Taurus channels and alternates composure with liveliness while striving to adjust at best his taste for concrete sensations: the bon vivant full of eloquence who knows how to indulge oneself without harming his health.
Inhibition slowness for Pisces: the placid. The monolithic, locked, unshakeable defence systems are an efficient anti-environment barrier: peaceful, tenacious and serene refusal of the external hubbubs, quiet and progressive decantation, absolute immobility out of silent rejection of any impulsive reaction, indifferent placidity towards everything that's going on around oneself — allowing to give free rein to one's intuition.
Difference Taurus-Pisces: Sense of proportions versus Sense of opposites
Sense of proportions for Taurus: the cunning. In Taurus phase, the Sense of opposites gives way to the Sense of proportions: one must strike a balance between one's total rejections and the necessity of compromises; one is accomodating in form without making any concessions in substance. One negociates cleverly without ever losing sight of one's concrete interest. One is willing to open up to the other, but distrust reigns. One haggles with one's enemies rather than locking antlers with them. Compromises are only aimed at eventually setting up a heavy domination.
Sense of opposites for Pisces: the invisible choice. Without really knowing exactly what one wants, one is able to perfectly, systematically and patiently eliminate, refuse and boycott what one doesn't want. One postpones one's response to opposing options. Until things settle out quietly and the way one must choose appears at the end of this decantation, one prefers edging one's way between antagonisms, escaping too clear-cut dialectics, straddling the fence so as not to be trapped into simplistic dualisms. One wears out one's adversaries by not responding. One lives in a static world where opposites are ever more equal, identical, yet different: there is a strong temptation trying to find a "third way" in order to transcend false oppositions.

Unadapted Taurus and Pisces
Similarity Taurus-Pisces: Excitation weakness
Recreating Excitation weakness for Taurus: the fatalist. Nothing new under the sun: he's unable to give a fresh, different look to the world. Lazy, tired ahead, apathetic, thickly indifferent to any novelty, any transformation, any change, he lives on his fund of subjective experiences, of preconceived ideas. No fancy, no imagination, no possibility of sublimation: everything is inevitably and eternally still. All that is left is to live life in a rut, doing the least possible.
Expending Excitation weakness for Pisces: the forsaker. One has a hard time fighting, taking action, asserting oneself. Lethargic, apathetic, colourless behaviors; extreme passivity, excessive laziness, negligence, anxious refusal of the reality principle. Letting oneself being tossed around by the turbulent flow of circumstances, and come what may. Dependency, seclusiveness, immobility, despondency, inefficiency, powerlessness, oppressive incommunicability, deathly fear of having to confront oneself to the tough and real outside world.
Difference Taurus-Pisces: Unadapted Inhibition slowness versus Unadapted Excitation quickness
Unadapted Inhibition slowness for Taurus: the narrow-minded. Narrow-minded, he is absolutely. The Inhibition inertia reinforces the Excitation weakness: the brake is kept systematically pulled. He doesn't step outside himself: selfish, misanthropic, he absolutely closes his mind to the world and dries up, hardens, becomes dogmatic and inflexible. He's systematically wary, unable to communicate, filled with a dense, deep-rooted unwillingness. His outdated intuition can give rise to schizoid imaginary constructs owing nothing to the ideas shared by his contemporaries. A reinforced-concrete wall.
Unadapted Excitation quickness for Pisces: the hysteric. The unadapted Excitation quickness is expressed more easily than for the Capricorn since it's at the edge of adaptation (Aries). In the meanwhile, one can witness more or less restrained yet stormy passions, uncontrolled outbursts of anger, fits of blind rage, flushes of aggressivity, urges of hasty acting-out, all the more furious that they burst out involuntarily. Volatile mood that switches from apathy to revolted spite.
Difference Taurus-Pisces: Paradoxical phase versus Egalitarian phase
Paradoxical phase for Taurus: the suspicious. Losing the sense of intensities, the Taurus reacts strongly to weak signals: he systematically reads between the lines despite the clarity of the text, goes to great lengths over trifles, attaches a thoughtless importance to minor details. He overvalues what's insignificant, marginal, invisible or small. The rich kind can this way make great discoveries. The poor kind will make do with defensive susceptibility, systematic paranoia. Overdose of energy displayed for the target of induction, overdose of indifference for the rest: one overworks for the obsession.
Egalitarian phase-clash of opposites for Pisces: the nothing-at-all. Everything is equivalent, equal, indifferent. One doesn't mind anything either way. The world is flat, seamless, everything is just motionless order or disorder, absolute calm, infinite serenity. Hence an ultimate indifference, at best close to nirvana, at worst revealing of an absolute nihilism: passive non-choice ends up in being nothing in the whole, everything in the nothingness, and nothing at all. One is peacefully waiting until it makes, breaks or bores, or until the clash of opposites shatters all the good or bad reasons one has or believes having to choose one's side, one's way, one's destiny.

This article was brought to you by
English translation by Julien Rouger
Next article — Taurus-Gemini: similarities and differences
See also:
---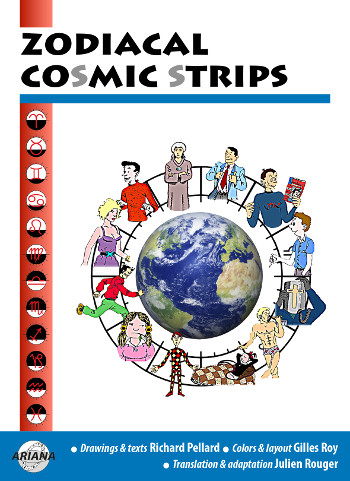 Zodiacal cosmic strips
32 pages. Color illustrations.
The portraits in comics of the 12 zodiac Signs. Discover the funny and educational caricatures, the qualities and defects of the Aries, the Taurus, the Gemini, the Cancer, the Leo, the Virgo, the Libra, the Scorpio, the Sagittarius, the Capricorn, the Aquarius, the Pisces in 24 original pages.
Download it right now from our shop