Disclaimer
A detailed interpretation of the meanings of a dominant Pluto in Scorpio will soon be available on our website. In the meantime, we offer you the interpretation sections below. The first one begins by summarizing the meanings of a dominant Pluto (without Sign): the characteristics of the Planet in itself prevail indeed over the characteristics of the Planet in Sign.
The two subsequent sections give an overview of the combinations between Planets and Signs by associating Scorpio on the one hand with the R.E.T. characteristics of Pluto on the other hand : Extensive Transcendence ('T') and intensive transcendence ('t'). Keep in mind that these texts are only valid when the relevant R.E.T. families are dominant as a whole : Uranus-Neptune-Pluto for the 'T' family and Mercury-Saturn-Pluto for the 't' family. To deduce the characteristics associated with Pluto alone, you will have to disregard the characteristics associated with Uranus and Neptune for the 'T' family, as well as the characteristics associated with Mercury and Saturn for the 't' family.
The plutonian profile
Extensive transcendence : You are in direct contact with the profound complexity of beings, things and situations. Mysterious and multiple, elusive and cryptic, ambivalent and unclassifiable, you cultivate your mysteries and your obscure secret gardens, you roam your inner mazes and you jealously preserve your inviolable shadowy side. Aloof, cold, impenetrable, you strive to keep your mind devoid of any certainty and your heart free from any attachment ; you endeavour not to delude yourself about anything nor anybody. Your subtlety is deep, your lucidity caustic, your intuitions perceptive. You have a gift for silently and insidiously influencing the course of events. Without any prejudice, you reserve the option of imagining every possible scenario in order to carve your own path through life, not out of opportunism but because you know that nothing is permanent. Discreetly domineering, fiercely independent, you are not driven by will or desire, but rather by a deaf, dumb and deep inner necessity leading you towards an unknown future.
Intensive transcendence : You are a complete sceptic. You don't believe in anything and you are not even sure believing in nothing. Nothing or almost nothing finds favour with your inquisitive and suspicious mind that always needs to discover the hidden dimension of beings and things, what goes on behind the scenes of situations. A merciless critic, you acutely perceive where the shoe pinches, where any explanation becomes meaningless. You debunk, demystify, strip away the masks and veils that conceal the profound reality, unconcerned about how such an approach might be unbearable, nerve-wracking and disturbing for the human mind eager for comforting certainties and make-believes ; unless you retreat into a silence with unfathomable density so as to stress to what extent you don't subscribe to anything. With infinite patience, you distance yourself from everything, put everything into perspective, play down everything, your achievements as well as your failures : for your very long-term focused consciousness, these are just trials and tribulations along a journey with a distant and unknown outcome.
Imaginative-inspired Scorpio
▶ Your strengths : you are inhabited by an exacerbated awareness of your singularity, your individuality, your specificity which encourages you not to want to resemble anyone and to systematically stand out from common opinions. Refractory and individualistic, you openly assert your difference and give free rein to your intimate intuitions and convictions to decide what your life will be like, with a fierce independence that does not support the slightest domination. Your specialized imagination is primarily interested in what others downplay, criticize, or dismiss. Both secretive and spectacular, you know how to evade others' expectations in order to appear where you are not expected.
▶ Your weaknesses : too often you turn in circles in the prison of your obsessive dreams, your illusory aspirations, your unrealizable projects. No openness can be expected from you, not the slightest attempt at conciliation or cooperation : you claim to be yourself even and above all in your failures, which convince you that an obscure external fatality prevents you from carrying out this that you consider to be your mission incomprehensible to ordinary mortals. You excessively demonize what opposes the free deployment of your sometimes paranoid desire to dominate everything by the sole magical power of a will to be that you believe placed above any common law.
Critical-aloof Scorpio
▶ Your strengths : hard to find refusals and rejections more rigorous and vigorous than yours. Your restless, lucid and differentiating cerebralness attacks with cruel subtlety all commonplaces, all shared certainties, all sacrosanct principles, all that the rules of propriety condemn. You are good at throwing oil on the fire, to provoke the necessary crises and ruptures. Virtuoso of insinuation, of the unspoken, but also of accusation without concessions, adjusting your detailed criticisms with maximum precision, at ease in complex and delicate situations, your sophisticated cunning allows you to be daring.
▶ Your weaknesses : By dint of seeing only the bad side of things, of apprehending human relations only from the angle of a virtual plot and concrete situations only from their aspect of fatal and insurmountable obstacle, you run the risk of locking yourself into the slump in a world that you consider hopeless and hopeless. Fatalistic, disgusted and fed up with everything, you seem to find malicious pleasure in sterilely opposing any proposal, in only being interested in what the majority rejects, sometimes for excellent reasons, in dirtying, shocking, taking the rest of the world against the grain. Excessively curious about the hidden, investigator of mysteries, your interpretations are tendentious.
---
---
---
This article was brought to you by
English translation by Julien Rouger
Next article — Pluto in Sagittarius
See also:
---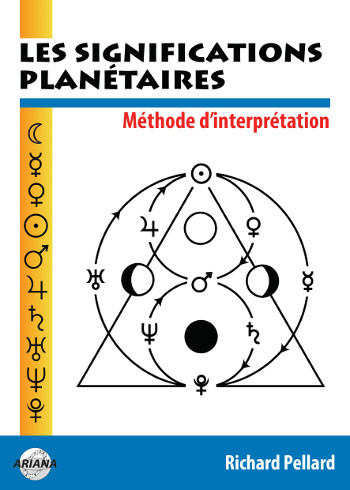 Les significations planétaires
par Richard Pellard
620 pages. Illustrations en couleur.
La décision de ne traiter dans ce livre que des significations planétaires ne repose pas sur une sous-estimation du rôle des Signes du zodiaque et des Maisons. Le traditionnel trio Planètes-Zodiaque-Maisons est en effet l'expression d'une structure qui classe ces trois plans selon leur ordre de préséance et dans ce triptyque hiérarchisé, les Planètes occupent le premier rang.
La première partie de ce livre rassemble donc, sous une forme abondamment illustrée de schémas pédagogiques et tableaux explicatifs, une édition originale revue, augmentée et actualisée des textes consacrés aux significations planétaires telles qu'elles ont été définies par l'astrologie conditionaliste et une présentation détaillée des méthodes de hiérarchisation planétaire et d'interprétation accompagnées de nombreux exemples concrets illustrés par des Thèmes de célébrités.
La deuxième partie est consacrée, d'une part à une présentation critique des fondements traditionnels des significations planétaires, d'autre part à une présentation des rapports entre signaux et symboles, astrologie et psychologie. Enfin, la troisième partie présente brièvement les racines astrométriques des significations planétaires… et propose une voie de sortie de l'astrologie pour accéder à une plus vaste dimension noologique et spirituelle qui la prolonge et la contient.
Téléchargez-le dès maintenant dans notre boutique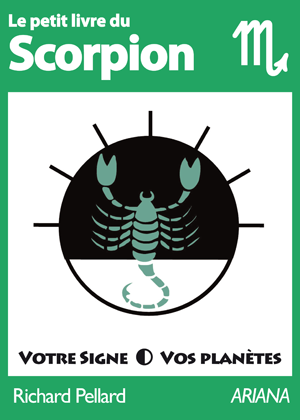 Le petit livre du Scorpion
par Richard Pellard
49 pages. Illustrations en couleur.
Ce livre présente et explique les trois zodiaques : celui du décor des constellations, celui de l'astrologie traditionnelle basé sur les Quatre Éléments symboliques (Feu, Terre, Air & Eau) et celui de l'astrologie naturelle basé sur les phénomènes astronomiques objectifs.
Interprétation du Scorpion selon la symbolique classique et selon ses réflexes dans le zodiaque naturel (force, vitesse, équilibre) ; interprétation du Scorpion en fonction des planètes dominantes ; le Signe solaire & le Signe Ascendant.
Téléchargez-le dès maintenant dans notre boutique
All rights reserved. © 2003–2023
Richard Pellard
. Prohibited reproduction.
Webmaster:
Julien Rouger
AstroAriana — Website realized with
SPIP