Adapted Aries and Taurus
Difference Aries-Taurus: Excitation strength versus Inhibition strength
Expending Excitation strength for Aries: the leader. First stage of the natural Excitation strength: daytime overrides nighttime, sweeps away its inhibitions and indifferences. An intact energetic potential that storms out and dashes into the environment. Animal aggressivity, pioneering activities, ardent and concrete sensations, absolute spontaneity, no a priori; an instinctive and powerful, dynamic and audacious force that pours out lavishly, a urge to take action that can't tolerate any delay or limitation.
Recovering Inhibition strength for Taurus: the objector. Reaction to the excesses of Excitation for Aries: one calms down, one becomes distrustful, mistrustful, sceptical. One controls and regulates one's vital energy, one disciplines one's strength, one recovers. One instinctively resists excitement, waste, or impatience. One steps aside in order to be at peace, one maintains one's psychological or physical health, one paces oneself and sets one's force of inertia against the outside world's stimulations.
Difference Aries-Taurus: No induction versus Negative induction
Negative induction for Taurus: the obsessive. The Excitation strength focuses onto a specific object that gets invested with one's full energy, one's full work power: one doesn't let oneself getting sidetracked by anything else, one swots one's topic, one goes further into one's subject, one takes specialization to extremes. Exclusive passion, monomania, obsessive crazes.
Similarity Aries-Taurus: Excitation quickness
Excitation quickness for Aries: the improviser. First stage of the Excitation quickness: a lightning mobilization of Excitation supplies. Aries hits the ground running, reactions are immediate, decisions are sudden. Moves are made right off, reflexes are instantaneous. Hectic paces, unlimited speeding up. Cyclothymic temper, fast adaptation to the environment's fluctuations. Quick Excitation induces a liking for big effects: great fanfare, vivid colors, forceful picturesqueness.
Excitation quickness for Taurus: the earthy. Brisk, quick, energetic reactions for everything regarding the target of induction: the Taurus only livens up for the object of his passion, otherwise he remains calm, placid, quiet. Even when there is an overdose of external stimulations, adaptation necessarily requires taking into account the concrete facts about the situation. Conversely, unadaptation allows to take refuge into real or imaginary abstractions. Whenever the Inhibition cracks up, the placid turns into a storm, the slightest straw breaks the camel's back. If the Inhibition is medium, the Taurus channels and alternates composure with liveliness while striving to adjust at best his taste for concrete sensations: the bon vivant full of eloquence who knows how to indulge oneself without harming his health.
Difference Aries-Taurus: Sense of opposites versus Sense of proportions
Sense of opposites for Aries: the decision maker. First stage of the Sense of opposites, polarized by the Excitation strength and quickness: one takes sides without hesitation nor subtleties, one is bluntly for or against, up to manichaeism. Brutal frankness, unwillingness to compromise, "he who is not with me is against me". Since choices are quick, instinctive, thoughtless, adaptation might require calling these into question. In this case, complete turnarounds: what used to be adored is fought with equal violence.
Sense of proportions for Taurus: the cunning. In Taurus phase, the Sense of opposites gives way to the Sense of proportions: one must strike a balance between one's total rejections and the necessity of compromises; one is accomodating in form without making any concessions in substance. One negociates cleverly without ever losing sight of one's concrete interest. One is willing to open up to the other, but distrust reigns. One haggles with one's enemies rather than locking antlers with them. Compromises are only aimed at eventually setting up a heavy domination.

Unadapted Aries and Taurus
Difference Aries-Taurus: Inhibition weakness versus Excitation weakness
Eliminating Inhibition weakness for Aries: the impulsive. Aries is unable to develop any indifference, to stay stone-faced, to remain phlegmatic. Difficulty or impossibility to forget, to boycot, to wipe the slate clean. He charges in no matter what, driven to intoxication by the present moment. He's fearless, impulsive, impatient, daredevil, short-sighted. The weakness of oblivion underlines the importance of memory: first impressions are indelible. The lack of distance, therefore of thought, makes him naive, gullible, ready to believe anything.
Recreating Excitation weakness for Taurus: the fatalist. Nothing new under the sun: he's unable to give a fresh, different look to the world. Lazy, tired ahead, apathetic, thickly indifferent to any novelty, any transformation, any change, he lives on his fund of subjective experiences, of preconceived ideas. No fancy, no imagination, no possibility of sublimation: everything is inevitably and eternally still. All that is left is to live life in a rut, doing the least possible.
Similarity Aries-Taurus: Unadapted Inhibition slowness
Unadapted Inhibition slowness for Aries: the intractable. The brake is difficult to maneuver. Two solutions are possible. Either braking is impossible: impulsiveness has no limits anymore, it's a constant accident, a vertigo of ceaseless confrontation with the external environment, an endless going overboard. Or rebooting is impossible: he managed to brake but can't release the brake anymore. He then builds himself monolithic and unilateral defence systems. His refusals are rigid and never change, whatever the situation is. Entrenched, morbid resentment and grudges. The imagination is fascinated by legends, by baroque myths.
Unadapted Inhibition slowness for Taurus: the narrow-minded. Narrow-minded, he is absolutely. The Inhibition inertia reinforces the Excitation weakness: the brake is kept systematically pulled. He doesn't step outside himself: selfish, misanthropic, he absolutely closes his mind to the world and dries up, hardens, becomes dogmatic and inflexible. He's systematically wary, unable to communicate, filled with a dense, deep-rooted unwillingness. His outdated intuition can give rise to schizoid imaginary constructs owing nothing to the ideas shared by his contemporaries. A reinforced-concrete wall.
Difference Aries-Taurus: Egalitarian phase versus Paradoxical phase
Egalitarian phase for Aries: the all-for-nothing. A monochrome aggressivity incites to fight everything altogether: everything is rejected and tarred with the same brush. Visceral hostility against "Tweedledums and Tweedledees". Everyone is wrong, friends as well as enemies. Good is not better than evil. Narrow-minded refusals, mind deafness, rigid personal philosophy that mustn't be questioned by anyone. The perception of antagonisms, once shifted to abstraction, amounts to a "me against the whole world".
Paradoxical phase for Taurus: the suspicious. Losing the sense of intensities, the Taurus reacts strongly to weak signals: he systematically reads between the lines despite the clarity of the text, goes to great lengths over trifles, attaches a thoughtless importance to minor details. He overvalues what's insignificant, marginal, invisible or small. The rich kind can this way make great discoveries. The poor kind will make do with defensive susceptibility, systematic paranoia. Overdose of energy displayed for the target of induction, overdose of indifference for the rest: one overworks for the obsession.

This article was brought to you by
English translation by Julien Rouger
Next article — Aries-Gemini: similarities and differences
See also:
---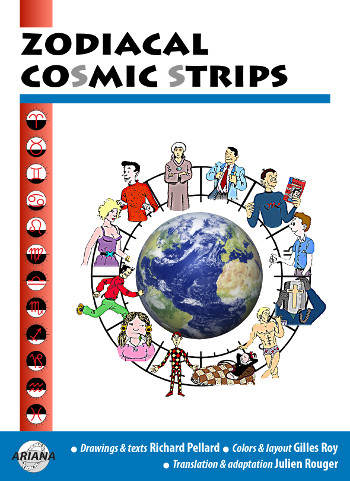 Zodiacal cosmic strips
32 pages. Color illustrations.
The portraits in comics of the 12 zodiac Signs. Discover the funny and educational caricatures, the qualities and defects of the Aries, the Taurus, the Gemini, the Cancer, the Leo, the Virgo, the Libra, the Scorpio, the Sagittarius, the Capricorn, the Aquarius, the Pisces in 24 original pages.
Download it right now from our shop