Adapted Aries and Virgo
Difference Aries-Virgo: Excitation strength versus Inhibition strength
Expending Excitation strength for Aries: the leader. First stage of the natural Excitation strength: daytime overrides nighttime, sweeps away its inhibitions and indifferences. An intact energetic potential that storms out and dashes into the environment. Animal aggressivity, pioneering activities, ardent and concrete sensations, absolute spontaneity, no a priori; an instinctive and powerful, dynamic and audacious force that pours out lavishly, a urge to take action that can't tolerate any delay or limitation.
Blocking Inhibition strength for Virgo: the reasonable. The brake is fully pulled: the protection is tight, systematized, strictly circumscribed, and gains this way a better practical efficiency. One gives up the impossible, one builds up safety margins and lifelines. One endeavours to limit oneself, to be auto-sufficient, not to let oneself being invaded by anything or anyone; one takes all the necessary precautions to be free from want.
Difference Aries-Virgo: Excitation quickness versus Excitation slowness
Excitation quickness for Aries: the improviser. First stage of the Excitation quickness: a lightning mobilization of Excitation supplies. Aries hits the ground running, reactions are immediate, decisions are sudden. Moves are made right off, reflexes are instantaneous. Hectic paces, unlimited speeding up. Cyclothymic temper, fast adaptation to the environment's fluctuations. Quick Excitation induces a liking for big effects: great fanfare, vivid colors, forceful picturesqueness.
Excitation slowness for Virgo: the meticulous. The concern for mastery and organization is now total: slow, methodical, strictly hierarchized action; invisible but relentless obstinacy yielding guaranteed results through a high economy of means. Rigor, seriousness, method, patience become ideal qualities. Without commotion, one never loses track of one's objectives. Habits are quasi-sacred rituals. Space is compartmentalized and domesticated.
Similarity Aries-Virgo: Sense of opposites
Sense of opposites for Aries: the decision maker. First stage of the Sense of opposites, polarized by the Excitation strength and quickness: one takes sides without hesitation nor subtleties, one is bluntly for or against, up to manichaeism. Brutal frankness, unwillingness to compromise, "he who is not with me is against me". Since choices are quick, instinctive, thoughtless, adaptation might require calling these into question. In this case, complete turnarounds: what used to be adored is fought with equal violence.
Sense of opposites for Virgo: the purist. The Inhibition strength allows a clear perception of the boundaries between oneself and the others: one doesn't intermingle, one is fussy, one perceives precisely the practical incompatibilities, the unchanging antagonisms. One defines uninfringable limits between oneself and the outside world, good and evil, what's allowed and what's forbidden, that coexist without interpenetrating: classifications, segregationism, purism. One protects one's personal integrity against any external influence; to this end one can possibly, and deliberately, wear a mask opposed to one's genuine nature.

Unadapted Aries and Virgo
Difference Aries-Virgo: Inhibition weakness versus Excitation weakness
Eliminating Inhibition weakness for Aries: the impulsive. Aries is unable to develop any indifference, to stay stone-faced, to remain phlegmatic. Difficulty or impossibility to forget, to boycot, to wipe the slate clean. He charges in no matter what, driven to intoxication by the present moment. He's fearless, impulsive, impatient, daredevil, short-sighted. The weakness of oblivion underlines the importance of memory: first impressions are indelible. The lack of distance, therefore of thought, makes him naive, gullible, ready to believe anything.
Associating Excitation weakness for Virgo: the asocial. The Associating Excitation weakness reaches its climax: no enthusiasm, no dynamism, no willingness to exchange, to communicate, to associate one's behaviours, thoughts or emotions with others' ones. Absolute withdrawal into oneself, into a tight internal world, into a fragmented self, shattered into pieces. Self-protection becomes quasi-masochistic through forbidding any freedom, any boldness, any surge: inferiority complexes can arise therefrom. Deprivation of affective exchanges, hermetism, impossible negotiation.
Difference Aries-Virgo: Unadapted Inhibition slowness versus Unadapted Inhibition quickness
Unadapted Inhibition slowness for Aries: the intractable. The brake is difficult to maneuver. Two solutions are possible. Either braking is impossible: impulsiveness has no limits anymore, it's a constant accident, a vertigo of ceaseless confrontation with the external environment, an endless going overboard. Or rebooting is impossible: he managed to brake but can't release the brake anymore. He then builds himself monolithic and unilateral defence systems. His refusals are rigid and never change, whatever the situation is. Entrenched, morbid resentment and grudges. The imagination is fascinated by legends, by baroque myths.
Unadapted Inhibition quickness for Virgo: the phobic. Defence systems are running almost in closed circuit, in a complete vacuum: it's a permanent fear from invasion, an endless anxiety, the absurd worry of the ostrich who doesn't dare anymore unburying its head from the sand. Anything is an excuse for abrupt withdrawals: being afraid of germs, of thieves, of the neighbour, of the other, of oneself. This can go as far as anxiety neurosis, as neurasthenia. But the Inhibition quickness is on the verge of adaptation: there might be discreet desires disguised as fears, or a courage that tries to obscurely emerge through irony, through mockery from a wise distance, through veiled criticisms.
Similarity Aries-Virgo: Egalitarian phase
Egalitarian phase for Aries: the all-for-nothing. A monochrome aggressivity incites to fight everything altogether: everything is rejected and tarred with the same brush. Visceral hostility against "Tweedledums and Tweedledees". Everyone is wrong, friends as well as enemies. Good is not better than evil. Narrow-minded refusals, mind deafness, rigid personal philosophy that mustn't be questioned by anyone. The perception of antagonisms, once shifted to abstraction, amounts to a "me against the whole world".
Egalitarian phase-clash of opposites for Virgo: the allergic. Why "clash of opposites"? Because diurnal and nocturnal durations are heading ever closer to equalization. An extreme sensitivity to absolute contrasts, experienced in a terrible way, follows therefrom for the unadapted Virginian: paralyzing dilemmas, irresolvable conflicts between desire and duty, what's lawful and unlawful, the self and the other. As for the Egalitarian phase, it makes the Virginian even more systematically fearful, distrustful, anxious, whatever the attitude of his like is. Depending on the situation, this can induce a psychasthenic self-protective withdrawal, or more actively, an intolerance, an allergy to the Other, to all the others, a sectarianism: one doesn't intermingle with anybody, not even one's closest friends.

This article was brought to you by
English translation by Julien Rouger
Next article — Aries-Libra: similarities and differences
See also:
---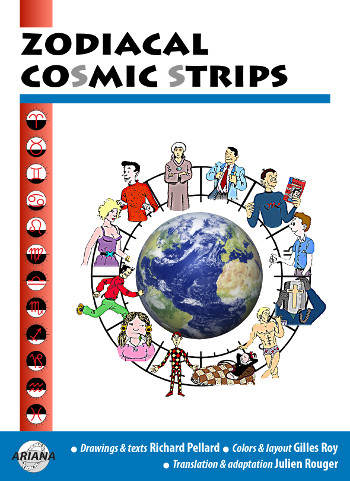 Zodiacal cosmic strips
32 pages. Color illustrations.
The portraits in comics of the 12 zodiac Signs. Discover the funny and educational caricatures, the qualities and defects of the Aries, the Taurus, the Gemini, the Cancer, the Leo, the Virgo, the Libra, the Scorpio, the Sagittarius, the Capricorn, the Aquarius, the Pisces in 24 original pages.
Download it right now from our shop