Disclaimer
A detailed interpretation of the meanings of a dominant Mercury in Cancer will soon be available on our website. In the meantime, we offer you the interpretation sections below. The first one begins by summarizing the meanings of a dominant Mercury (without Sign): the characteristics of the Planet in itself prevail indeed over the characteristics of the Planet in Sign.
The two subsequent sections give an overview of the combinations between Planets and Signs by associating Cancer on the one hand with the R.E.T. characteristics of Mercury on the other hand : Extensive representation ('R') and intensive transcendence ('t'). Keep in mind that these texts are only valid when the relevant R.E.T. families are dominant as a whole : Sun-Venus-Mercury for the 'R' family and Mercury-Saturn-Pluto for the 't' family. To deduce the characteristics associated with Mercury alone, you will have to disregard the characteristics associated with the Sun and Venus for the 'R' family, as well as the characteristics associated with Saturn and Pluto for the 't' family.
The mercurian profile
Extensive representation : You are an all-around sociable person, eager for varied encounters, for multiple contacts, always ready to engage in dialogue with others for the simple pleasure of communication. People interest you straightaway by their diversity, and your human curiosity is aroused by detecting the slightest sign that facilitates getting in touch. Playful, relaxed, receptive, your mind always on the move, sometimes uncatchable through your zigzags and your twirls, you are keen to remain free to start and leave the conversation whenever you please, to feel that you aren't tied to anything or anybody. Basically, if you like chatting and communicating, you do it for fun, just to see, without ever really getting involved in your words or taking yourself seriously. Fundamentally open-minded to the others, having nothing to prove or to demonstrate, you infinitely multiply the facets of your own character and you make it your duty to be always changeable, ready to make new connections and to welcome new points of view with pleasure, curiosity and interest.
Intensive transcendence : You are spontaneously open to the unknown and the unforeseeable. Distrustful towards definitive certainties, accepted theories, thought habits, and so-called sacrosanct principles, you know that the truth is multiple and that it should always be sought beyond appearances, by tracking down the slightest clues that can point towards it. For you any explanation that is meant to be unique is necessarily unsatisfying, and you never refrain yourself from criticizing or ridiculing those who claim having understood everything. Your immense and unquenchable inquisitiveness incites you to multiply your centers of interest and your fields of discovery, so that your thought doesn't idle in a too well-known or a too dwelled-upon routine. You can occasionally be ironic, acerbic, mocking : it's for you a way to keep away from excessive seriousness. You know how to take a wide step back from all your involvements and how to preserve your freedom to change your mind, to alter your way of thinking at any time.
Sociable-communicative Cancer
▶ Your strengths : you never express your taste for encounters, varied exchanges as well as when you feel secure, protected. When you have an audience acquired in advance, attentive to your way of expressing yourself full of charm, interest and fantasy, then you give the full measure of your talents as a communicator or seducer. While being very open to others, you have your modesty, your shyness, as if you fear disturbing, going beyond the role assigned to you. You know how to delimit the territory of your curiosities so as not to disperse yourself. Tenacious and patient in your human relationships, you like to be the center of a universe closed in on yourself but rich in many different attractions.
▶ Your weaknesses : nourishing secret self-esteem problems, you have an excessive tendency to withdraw into yourself when you do not feel immediately understood, accepted, recognized. At the slightest signal of incomprehension or hostility from others, you panic, you retract and you then take refuge in the circle of your familiars, on known ground where you do not have to prove yourself. Isolated in your capricious subjectivity, you too often take your wishes for realities, do not go to the end of your curiosities for fear of finding yourself overwhelmed. Your main problem is probably never to precisely locate the boundaries between yourself and others, between your naïve expectations and the possible.
Critical-aloof Cancer
▶ Your strengths : you are characterized by a cautious and thoughtful skepticism which encourages you to distrust evidence, appearances and accepted speeches. Doubt protects you against illusions. Armored against too commonly accepted truths, you tenaciously and relentlessly pursue your research to understand the why of things. The unknown, the multiple, the complex, the uncertain are your domain of choice, territories that you strive to master. Refractory and independent-minded, you are not afraid of the isolation that your banter or your disturbing questions can bring you : on the contrary, these are so many cactus thorns that protect you from others.
▶ Your weaknesses : worried, anxious and perpetually dissatisfied, you tend to withdraw into your shell where you are assailed by a thousand thoughts and problems that confuse you and prevent you from opening up to the world. Inquisitive, always on the defensive, you often get lost in your inner labyrinths where you self-analyze to excess. Deeply allergic to others whom you always suspect of wanting to invade you, you are only too good at frustrating any attempt at cooperation with acerbic remarks and paradoxical reasoning that confuse your interlocutors as much as they lead you astray.
---
---
---
This article was brought to you by
English translation by Julien Rouger
Next article — Mercury in Leo
See also:
---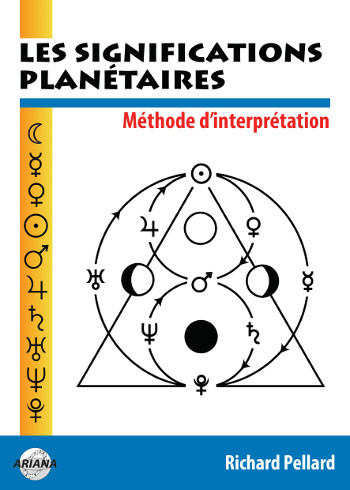 Les significations planétaires
par Richard Pellard
620 pages. Illustrations en couleur.
La décision de ne traiter dans ce livre que des significations planétaires ne repose pas sur une sous-estimation du rôle des Signes du zodiaque et des Maisons. Le traditionnel trio Planètes-Zodiaque-Maisons est en effet l'expression d'une structure qui classe ces trois plans selon leur ordre de préséance et dans ce triptyque hiérarchisé, les Planètes occupent le premier rang.
La première partie de ce livre rassemble donc, sous une forme abondamment illustrée de schémas pédagogiques et tableaux explicatifs, une édition originale revue, augmentée et actualisée des textes consacrés aux significations planétaires telles qu'elles ont été définies par l'astrologie conditionaliste et une présentation détaillée des méthodes de hiérarchisation planétaire et d'interprétation accompagnées de nombreux exemples concrets illustrés par des Thèmes de célébrités.
La deuxième partie est consacrée, d'une part à une présentation critique des fondements traditionnels des significations planétaires, d'autre part à une présentation des rapports entre signaux et symboles, astrologie et psychologie. Enfin, la troisième partie présente brièvement les racines astrométriques des significations planétaires… et propose une voie de sortie de l'astrologie pour accéder à une plus vaste dimension noologique et spirituelle qui la prolonge et la contient.
Téléchargez-le dès maintenant dans notre boutique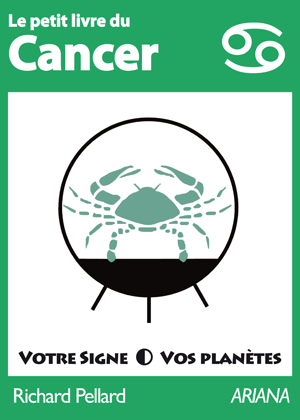 Le petit livre du Cancer
par Richard Pellard
49 pages. Illustrations en couleur.
Ce livre présente et explique les trois zodiaques : celui du décor des constellations, celui de l'astrologie traditionnelle basé sur les Quatre Éléments symboliques (Feu, Terre, Air & Eau) et celui de l'astrologie naturelle basé sur les phénomènes astronomiques objectifs.
Interprétation du Cancer selon la symbolique classique et selon ses réflexes dans le zodiaque naturel (force, vitesse, équilibre) ; interprétation du Cancer en fonction des planètes dominantes ; le Signe solaire & le Signe Ascendant.
Téléchargez-le dès maintenant dans notre boutique
All rights reserved. © 2003–2023
Richard Pellard
. Prohibited reproduction.
Webmaster:
Julien Rouger
AstroAriana — Website realized with
SPIP