Disclaimer
A detailed interpretation of the meanings of a dominant Mars in Leo will soon be available on our website. In the meantime, we offer you the interpretation sections below. The first one begins by summarizing the meanings of a dominant Mars (without Sign): the characteristics of the Planet in itself prevail indeed over the characteristics of the Planet in Sign.
The two subsequent sections give an overview of the combinations between Planets and Signs by associating Leo on the one hand with the R.E.T. characteristics of Mars on the other hand : Extensive existence ('E') and intensive existence ('e'). Keep in mind that these texts are only valid when the relevant R.E.T. families are dominant as a whole : Jupiter-Mars-Saturn for the 'E' family and Venus-Mars-Neptune for the 'e' family. To deduce the characteristics associated with Mars alone, you will have to disregard the characteristics associated with Jupiter and Saturn for the 'E' family, as well as the characteristics associated with Venus and Neptune for the 'e' family.
The marsian profile
Extensive existence : You are a realist. For you nothing is true besides what you have yourself experimented, what you directly pitted yourself against, what you have personally experienced. Practical, dynamic, impatient to take action and to put things into practice, it's essential for you to face the harsh reality of facts on which you need to have a concrete, quick and efficient action. A hard-headed and tenacious fighter, you learn on the job by trusting your empiricism and the nose you have for situations. Fiery, energetic and rough, the difficulties and tangible obstacles, far from discouraging you, stimulate your combativeness and strengthen your stamina. Courageous, enthusiastic, punchy, you aren't afraid of baldly opposing beings and things whenever you deem it necessary. Harsh, stubborn, direct and tough, you tackle life head-on and take charge without being all talk, pushing back any hesitation or any useless questions. Hard-mouthed, uncompromising, conquering, confrontational, always on the move, you don't hesitate taking risks and bold initiatives.
Intensive existence : A very sensitive person, you live your relationship with the world through every fiber of your being. You act and react based on what you are experiencing, on what you are feeling, on the sensations that are being provided to you by your direct contact with the raw realities. You think, live, love and take action with your guts, with an animal good health that puts an absolute, paramount importance on the testimony of your five senses. You like powerful, strong, full-blooded sensations and emotions. You behave like a creature of flesh and blood amongst creatures of flesh and blood : alive and kicking, vibrant, shivering, vivacious, hot-headed, boisterous, earthy, incapable of dissimulation or deceit, you are always genuine in your moods and your perception of beings and things. You live point-blank, directly immersed in your most authentic natural impulses, in your moods that are quickly triggered by the situations you are facing. You exist here and now, in the pressing immediacy of the present moment, in a complete freedom of movement, and you enjoy mastering the muscles of your body.
Active-pragmatic Leo
▶ Your strengths : you are always ready to courageously take up all the challenges imposed on you by circumstances, especially the most adverse ones. From your point of view, no difficulty of existence can be overcome as long as we want it and act with voluntarism. The world of facts is for you a territory of conquest where you advance with as much audacity, pragmatism as determination. Combative and organized, you are ready to break through all the limitations and obstacles to your need to undertake. Constantly experimenting with new situations fascinates you and you show unassailable self-confidence when it comes to confronting yourself with the concrete world.
▶ Your weaknesses : reckless and impulsive, you are too abrupt, too whole in your way of reacting to the circumstances with which you are confronted. Where it would take tactical finesse, the subtlety of a goldsmith to triumph in your endeavors, you too often behave like a bulldozer, an elephant in a china shop. The fear that events will escape you, that circumstances will resist you, arouses in you an excessive activism and interventionism motivated by the panic fear of being deprived, dispossessed of your needs for triumphant action. If your combativeness remains intact, you too often give in to bluster and opportunism for fear of not being in the game.
Affective-sensorial Leo
▶ Your strengths : you always go further in your need for shared feelings, affective communion, emotional overflow. To love is to live you beyond measure. You take everything you do to heart and live on edge, on edge, with an intensity steeped in authenticity that makes you run away from all the hypocrisies with which others like to drape or hide their true feelings. You cannot be counted on to be petty, stingy with what touches and moves you : with exemplary constancy and freedom, you intend to actively testify, following as closely as possible the contradictory movements and moods of your heart, what you really feel.
▶ Your weaknesses : your abrupt way of reacting to the letter to what you feel, your revolts dictated by your feelings more than by your reason mean that you never know how you will behave in the next moment. In your loves and in your hatreds, in your adorations and detestations, you do too much. You react too frankly, too much with your guts and your heart when the circumstances would require more distance and subtlety. Your desires and moods have excessive force of law for you : your heart dictates impulses that you are unable to govern, which impose themselves on you with such liberating evidence that you are too often the plaything of your desires.
---
---
---
This article was brought to you by
English translation by Julien Rouger
Next article — Mars in Virgo
See also:
---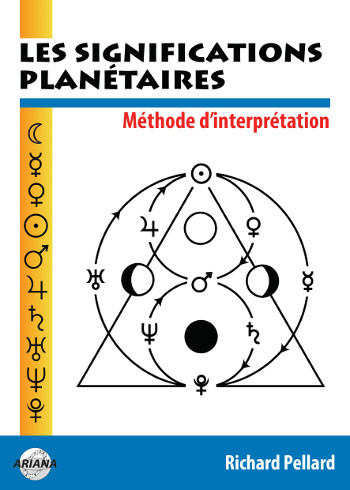 Les significations planétaires
par Richard Pellard
620 pages. Illustrations en couleur.
La décision de ne traiter dans ce livre que des significations planétaires ne repose pas sur une sous-estimation du rôle des Signes du zodiaque et des Maisons. Le traditionnel trio Planètes-Zodiaque-Maisons est en effet l'expression d'une structure qui classe ces trois plans selon leur ordre de préséance et dans ce triptyque hiérarchisé, les Planètes occupent le premier rang.
La première partie de ce livre rassemble donc, sous une forme abondamment illustrée de schémas pédagogiques et tableaux explicatifs, une édition originale revue, augmentée et actualisée des textes consacrés aux significations planétaires telles qu'elles ont été définies par l'astrologie conditionaliste et une présentation détaillée des méthodes de hiérarchisation planétaire et d'interprétation accompagnées de nombreux exemples concrets illustrés par des Thèmes de célébrités.
La deuxième partie est consacrée, d'une part à une présentation critique des fondements traditionnels des significations planétaires, d'autre part à une présentation des rapports entre signaux et symboles, astrologie et psychologie. Enfin, la troisième partie présente brièvement les racines astrométriques des significations planétaires… et propose une voie de sortie de l'astrologie pour accéder à une plus vaste dimension noologique et spirituelle qui la prolonge et la contient.
Téléchargez-le dès maintenant dans notre boutique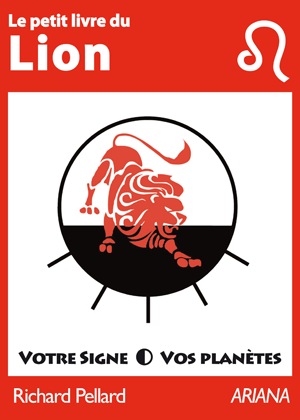 Le petit livre du Lion
par Richard Pellard
49 pages. Illustrations en couleur.
Ce livre présente et explique les trois zodiaques : celui du décor des constellations, celui de l'astrologie traditionnelle basé sur les Quatre Éléments symboliques (Feu, Terre, Air & Eau) et celui de l'astrologie naturelle basé sur les phénomènes astronomiques objectifs.
Interprétation du Lion selon la symbolique classique et selon ses réflexes dans le zodiaque naturel (force, vitesse, équilibre) ; interprétation du Lion en fonction des planètes dominantes ; le Signe solaire & le Signe Ascendant.
Téléchargez-le dès maintenant dans notre boutique
All rights reserved. © 2003–2023
Richard Pellard
. Prohibited reproduction.
Webmaster:
Julien Rouger
AstroAriana — Website realized with
SPIP