Adapted Taurus and Leo
Difference Taurus-Leo: Inhibition strength versus Excitation strength
Recovering Inhibition strength for Taurus: the objector. Reaction to the excesses of Excitation for Aries: one calms down, one becomes distrustful, mistrustful, sceptical. One controls and regulates one's vital energy, one disciplines one's strength, one recovers. One instinctively resists excitement, waste, or impatience. One steps aside in order to be at peace, one maintains one's psychological or physical health, one paces oneself and sets one's force of inertia against the outside world's stimulations.
Unblocking Excitation strength for Leo: the champion. The Leo reacts to any situation that encloses, delimits, ties up: to break free, to surpass oneself, to break one's chains, to get out the hood, to defeat one's opponents, to overcome encirclements, to refuse fate, paralysis, standstills, quagmires. To dare, to break away, to be a hero, to solve, to expand, to conquer, to be radiant, to clear obstacles, to increase one's power, to emancipate from any authority.
Difference Taurus-Leo: Negative induction versus Positive induction
Negative induction for Taurus: the obsessive. The Excitation strength focuses onto a specific object that gets invested with one's full energy, one's full work power: one doesn't let oneself getting sidetracked by anything else, one swots one's topic, one goes further into one's subject, one takes specialization to extremes. Exclusive passion, monomania, obsessive crazes.
Positive induction for Leo: the conqueror. The concentration of protective Inhibition onto a narrow field allows to make the most precious immune, to keep the essential safe, to protect the vital core. From this bolted stronghold, one can take all the risks, all the braveries, one can radiate in complete safety. Open egocentricity, magnanimity, generosity, etc.
Difference Taurus-Leo: Excitation quickness versus Excitation slowness
Excitation quickness for Taurus: the earthy. Brisk, quick, energetic reactions for everything regarding the target of induction: the Taurus only livens up for the object of his passion, otherwise he remains calm, placid, quiet. Even when there is an overdose of external stimulations, adaptation necessarily requires taking into account the concrete facts about the situation. Conversely, unadaptation allows to take refuge into real or imaginary abstractions. Whenever the Inhibition cracks up, the placid turns into a storm, the slightest straw breaks the camel's back. If the Inhibition is medium, the Taurus channels and alternates composure with liveliness while striving to adjust at best his taste for concrete sensations: the bon vivant full of eloquence who knows how to indulge oneself without harming his health.
Excitation slowness for Leo: the infallible. The concern for organizing and mastering is clearly displayed: it's about declaredly legislating, having control, being in charge. High, persistent, persevering ambitions; strong, long-lasting, obsessing passions. Audaciousnesses are handled carefully, conquests are fortified and progressively extended. One thinks about everything, one aspires to be master of oneself, without leaving anything to chance. Radiant power due to a deep self-control.
Similarity Taurus-Leo: Sense of proportions
Sense of proportions for Taurus: the cunning. In Taurus phase, the Sense of opposites gives way to the Sense of proportions: one must strike a balance between one's total rejections and the necessity of compromises; one is accomodating in form without making any concessions in substance. One negociates cleverly without ever losing sight of one's concrete interest. One is willing to open up to the other, but distrust reigns. One haggles with one's enemies rather than locking antlers with them. Compromises are only aimed at eventually setting up a heavy domination.
Sense of proportions for Leo: the magnanimous. The Sense of syntheses gives way to the Sense of proportions: one must strike a balance between complying with one's environment and finding one's own way out, one must combine offensive boldnesses with asset management, overcome adversity while remaining magnanimous, establish one's power without binding (too much) the others. One deals with the enemy in order to defeat him better. In the long run, the general interest (Sense of syntheses) might lose ground in favour of the Sense of opposites: one then reaps individually the benefits. Well-balanced ambivalence allows to be authoritarian while remaining liberal: this is the "long leash" policy, that consists in leaving a maximum of apparent freedom to the others in order to control them better.

Unadapted Taurus and Leo
Difference Taurus-Leo: Excitation weakness versus Inhibition weakness
Recreating Excitation weakness for Taurus: the fatalist. Nothing new under the sun: he's unable to give a fresh, different look to the world. Lazy, tired ahead, apathetic, thickly indifferent to any novelty, any transformation, any change, he lives on his fund of subjective experiences, of preconceived ideas. No fancy, no imagination, no possibility of sublimation: everything is inevitably and eternally still. All that is left is to live life in a rut, doing the least possible.
Differentiating Inhibition weakness for Leo: the blunderer. No subtlety, no finesse, no sense of complex differentiating analyses: it's a bull in a china shop. No moderation, no tact, no reserve: he's clumsy, intrusive, oafish, puts his foot in his mouth. No sidestepping, no nuances, no crafty distinctions: the unadapted Leo lacks sophistication, is unable of having the minimum of targeted hypocrisy essential for the game of social relationships. He's simplistic, reckless, blunderer, humongous.
Difference Taurus-Leo: Unadapted Inhibition slowness versus Unadapted Inhibition quickness
Unadapted Inhibition slowness for Taurus: the narrow-minded. Narrow-minded, he is absolutely. The Inhibition inertia reinforces the Excitation weakness: the brake is kept systematically pulled. He doesn't step outside himself: selfish, misanthropic, he absolutely closes his mind to the world and dries up, hardens, becomes dogmatic and inflexible. He's systematically wary, unable to communicate, filled with a dense, deep-rooted unwillingness. His outdated intuition can give rise to schizoid imaginary constructs owing nothing to the ideas shared by his contemporaries. A reinforced-concrete wall.
Unadapted Inhibition quickness for Leo: the wimp. He frets over his personal freedom, his popularity, his outperforming power. He's irrationally afraid that the (real or imaginary) vulnerable spots of his armour are picked upon. This can be a gutsy on the defensive, aborting his bragging initiatives out of sudden fear of their results, even if this means bluffing or boasting in order to cover it up. Once facing real dangers, he prefers rushing headlong so as not to decline, unless he beats a hasty and shameful retreat in a panic beyond description.
Similarity Taurus-Leo: Paradoxical phase
Paradoxical phase for Taurus: the suspicious. Losing the sense of intensities, the Taurus reacts strongly to weak signals: he systematically reads between the lines despite the clarity of the text, goes to great lengths over trifles, attaches a thoughtless importance to minor details. He overvalues what's insignificant, marginal, invisible or small. The rich kind can this way make great discoveries. The poor kind will make do with defensive susceptibility, systematic paranoia. Overdose of energy displayed for the target of induction, overdose of indifference for the rest: one overworks for the obsession.
Paradoxical phase for Leo: the reckless. While really and objectively serious events only elicit his indifference, this doesn't apply whenever what he considers to be his vulnerable spots gets a minor blow. Tickle his pride and you will bring about some storms. Announce him a general catastrophe and he will keep his composure. He overvalues the feats, what's enormous or ornamental; he plays down what's insignificant, subtle, underlying. He underestimates real obstacles, serious dangers and keeps a blind faith into bold challenges, rash initiatives. Showing too much his desire to win and to dominate, he's likely to get his victories stolen by smarter ones.

This article was brought to you by
English translation by Julien Rouger
Next article — Taurus-Virgo: similarities and differences
See also:
---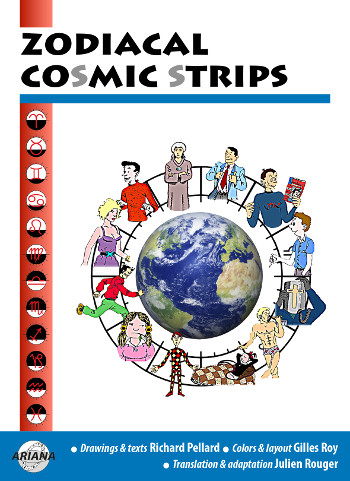 Zodiacal cosmic strips
32 pages. Color illustrations.
The portraits in comics of the 12 zodiac Signs. Discover the funny and educational caricatures, the qualities and defects of the Aries, the Taurus, the Gemini, the Cancer, the Leo, the Virgo, the Libra, the Scorpio, the Sagittarius, the Capricorn, the Aquarius, the Pisces in 24 original pages.
Download it right now from our shop