Disclaimer
A detailed interpretation of the meanings of a dominant Uranus in Aries will soon be available on our website. In the meantime, we offer you the interpretation sections below. The first one begins by summarizing the meanings of a dominant Uranus (without Sign): the characteristics of the Planet in itself prevail indeed over the characteristics of the Planet in Sign.
The two subsequent sections give an overview of the combinations between Planets and Signs by associating Aries on the one hand with the R.E.T. characteristics of Uranus on the other hand : Extensive Transcendence ('T') and intensive representation ('r'). Keep in mind that these texts are only valid when the relevant R.E.T. families are dominant as a whole : Uranus-Neptune-Pluto for the 'T' family and Sun-Jupiter-Uranus for the 'r' family. To deduce the characteristics associated with Uranus alone, you will have to disregard the characteristics associated with Neptune and Pluto for the 'T' family, as well as the characteristics associated with the Sun and Jupiter for the 'r' family.
The uranian profile
Extensive transcendence : You make up your mind according to underlying motivations, to firm convictions that don't owe anything to your present situation nor to what is suggested to you. Something radically refractory within yourself incites you to assert your uniqueness, to display your originality, to stand out from the crowd. Instead of painstaking analyses and experimental deductions, you prefer your lightning intuitions that allow you to simplify the most complex problems and to make clear anything obscure. Considering yourself as the holder of absolute certainties for which you are taking responsibility in full independence, you impose your perceptive and sometimes visionary insights without being afraid of surprising, shocking, destabilizing. With a wealth of abstract, cold and synthetizing cerebrality, you have no qualms about innovating, building new concepts that carry authority. You reserve the option of radically changing your point of view, of autonomously making independent choices, whatever it takes. In your own hyper-individualized way, you express your sense of universal values.
Intensive representation : You are an intransigent voluntarist who gets intensely involved into choices that you deem essential. You are not afraid of taking hard, clear-cut, final decisions in all conscience and independence. Once you worked out a plan, developed a strategy, nothing could make you change your mind or veer off your path and objective, whatever the events and circumstances are. Rigorous, efficient, imperious, your cold and organized cerebrality has in theory an answer for everything and knows how to find the most convincing solutions to the most confusing problems. Accurate, systematic, hyper-logical, you don't leave anything to chance and you unashamedly force your will. You don't hesitate getting mightily involved in order to assert your deepest and least ascertainable principles and convictions. Individualistic, elitist, inflexible as far as your personal fulfilment is concerned, your incredible self-assurance allows you to dare whenever you decide the most radical splits or challenges.
Imaginative-inspired Aries
▶ Your strengths : independent and conquering, you launch yourself into the world you want to invest thanks to your imaginative projects, your dazzling intuitions, your original and daring projects. You have an unshakeable faith that brutally moves mountains, shakes up habits and routines and overturns obstacles with your imagination and powerful will. Provocative, visionary, intrepid, you know you carry a destiny that nothing can resist. Your vast and ample aspirations, your powerful and stirring inner determination urge you to shake up the world and the people around you, to take on all traditions head-on. The unexplored galvanizes you, the unknown stimulates you.
▶ Your weaknesses : your systematically refractory behaviors, your feverish excesses and your excessive provocations do not make your life any easier. Rebellious to the end, cavalier individualist, you tend to reject the outside world altogether if it does not correspond to your aspirations, which are too vast not to be often chimerical or unrealizable. Quixotic, unable to bend to any rule or discipline whatsoever, you risk wasting your time in losing battles against the windmills that excite your inflamed imagination, exhausting yourself from multiplying scandals and embark on grotesque challenges lost in advance.
Ambitious-resolute Aries
▶ Your strengths : Endowed with great strength of character and driven by unassailable certainties that you impose with conviction, you know what you want and have the highest degree of art in making clear-cut, imperative, definitive choices. Dynamic and demanding with yourself and with others, you exercise your driving authority without faltering. In one way or another, you must impose your stamp on beings and things, mark them with the seal of your powerful and entire personality, of your open ambitions. Your taste for highly structured projects, strictly hierarchical organizations does not prevent you when necessary from making quick decisions in the urgency of the moment.
▶ Your weaknesses : you risk being the victim of your aggressive authoritarianism, of your too often extremist positions, without any nuance. Your whole and intransigent temperament means that with you it makes or breaks, "it's like this and not otherwise" : there are no half measures, diplomacy or concessions possible. Petrified in your principles and certainties that you would like to be definitive, you wall yourself in inert defense systems as soon as you have to question yourself, flexibly accept to recognize that you are on the wrong track, recognize that there are contrary situations to which it is useless to oppose your imperious and intolerant will.
---
---
---
This article was brought to you by
English translation by Julien Rouger
Next article — Uranus in Taurus
See also:
---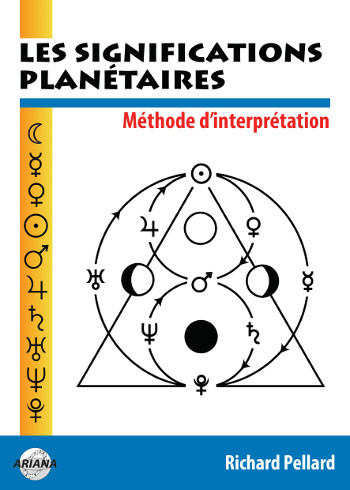 Les significations planétaires
par Richard Pellard
620 pages. Illustrations en couleur.
La décision de ne traiter dans ce livre que des significations planétaires ne repose pas sur une sous-estimation du rôle des Signes du zodiaque et des Maisons. Le traditionnel trio Planètes-Zodiaque-Maisons est en effet l'expression d'une structure qui classe ces trois plans selon leur ordre de préséance et dans ce triptyque hiérarchisé, les Planètes occupent le premier rang.
La première partie de ce livre rassemble donc, sous une forme abondamment illustrée de schémas pédagogiques et tableaux explicatifs, une édition originale revue, augmentée et actualisée des textes consacrés aux significations planétaires telles qu'elles ont été définies par l'astrologie conditionaliste et une présentation détaillée des méthodes de hiérarchisation planétaire et d'interprétation accompagnées de nombreux exemples concrets illustrés par des Thèmes de célébrités.
La deuxième partie est consacrée, d'une part à une présentation critique des fondements traditionnels des significations planétaires, d'autre part à une présentation des rapports entre signaux et symboles, astrologie et psychologie. Enfin, la troisième partie présente brièvement les racines astrométriques des significations planétaires… et propose une voie de sortie de l'astrologie pour accéder à une plus vaste dimension noologique et spirituelle qui la prolonge et la contient.
Téléchargez-le dès maintenant dans notre boutique
Le petit livre du Bélier
par Richard Pellard
49 pages. Illustrations en couleur.
Ce livre présente et explique les trois zodiaques : celui du décor des constellations, celui de l'astrologie traditionnelle basé sur les Quatre Éléments symboliques (Feu, Terre, Air & Eau) et celui de l'astrologie naturelle basé sur les phénomènes astronomiques objectifs.
Interprétation du Bélier selon la symbolique classique et selon ses réflexes dans le zodiaque naturel (force, vitesse, équilibre) ; interprétation du Bélier en fonction des planètes dominantes ; le Signe solaire & le Signe Ascendant.
Téléchargez-le dès maintenant dans notre boutique
All rights reserved. © 2003–2023
Richard Pellard
. Prohibited reproduction.
Webmaster:
Julien Rouger
AstroAriana — Website realized with
SPIP