Disclaimer
A detailed interpretation of the meanings of a dominant Uranus in Taurus will soon be available on our website. In the meantime, we offer you the interpretation sections below. The first one begins by summarizing the meanings of a dominant Uranus (without Sign): the characteristics of the Planet in itself prevail indeed over the characteristics of the Planet in Sign.
The two subsequent sections give an overview of the combinations between Planets and Signs by associating Taurus on the one hand with the R.E.T. characteristics of Uranus on the other hand : Extensive Transcendence ('T') and intensive representation ('r'). Keep in mind that these texts are only valid when the relevant R.E.T. families are dominant as a whole : Uranus-Neptune-Pluto for the 'T' family and Sun-Jupiter-Uranus for the 'r' family. To deduce the characteristics associated with Uranus alone, you will have to disregard the characteristics associated with Neptune and Pluto for the 'T' family, as well as the characteristics associated with the Sun and Jupiter for the 'r' family.
The uranian profile
Extensive transcendence : You make up your mind according to underlying motivations, to firm convictions that don't owe anything to your present situation nor to what is suggested to you. Something radically refractory within yourself incites you to assert your uniqueness, to display your originality, to stand out from the crowd. Instead of painstaking analyses and experimental deductions, you prefer your lightning intuitions that allow you to simplify the most complex problems and to make clear anything obscure. Considering yourself as the holder of absolute certainties for which you are taking responsibility in full independence, you impose your perceptive and sometimes visionary insights without being afraid of surprising, shocking, destabilizing. With a wealth of abstract, cold and synthetizing cerebrality, you have no qualms about innovating, building new concepts that carry authority. You reserve the option of radically changing your point of view, of autonomously making independent choices, whatever it takes. In your own hyper-individualized way, you express your sense of universal values.
Intensive representation : You are an intransigent voluntarist who gets intensely involved into choices that you deem essential. You are not afraid of taking hard, clear-cut, final decisions in all conscience and independence. Once you worked out a plan, developed a strategy, nothing could make you change your mind or veer off your path and objective, whatever the events and circumstances are. Rigorous, efficient, imperious, your cold and organized cerebrality has in theory an answer for everything and knows how to find the most convincing solutions to the most confusing problems. Accurate, systematic, hyper-logical, you don't leave anything to chance and you unashamedly force your will. You don't hesitate getting mightily involved in order to assert your deepest and least ascertainable principles and convictions. Individualistic, elitist, inflexible as far as your personal fulfilment is concerned, your incredible self-assurance allows you to dare whenever you decide the most radical splits or challenges.
Imaginative-inspired Taurus
▶ Your strengths : you are a refractory who intends to live according to your own rules and your own laws, to the rhythm of your inspirations that you draw only from the depths of yourself. Your compact silences mask deep inner aspirations that you make it your business to pursue with invariable tenacity. You seem unshakable, rigorously sheltered from all influence, screwed inside yourself by a dark force that encourages you to focus all your energy on the pursuit of your bizarre projects. Coming out of your silences, your positions or sudden reactions are surprising, improbable, paradoxical, sometimes incomprehensible. You are inhabited by a hermetic elsewhere that you express in your own way, without worrying about others.
▶ Your weaknesses : the risk for you is to find yourself frozen inside yourself, prisoner of your whimsical and unverifiable intuitions which will become for you so many certainties as dogmatic as they are indemonstrable. You can come to believe that you are the hostage of a fatal fate against which you can do nothing, while sneakily wallowing in your riddles, displaying your difference through unsocial and whimsical behaviors that further isolate you from social life and tangible realities. Your imagination cut off from reality goes to great lengths for the tiniest details that can become the raw material for your delusions of interpretation.
Ambitious-resolute Taurus
▶ Your strengths : you have a compact, massive, powerful will that nothing can distract. Once you have made a decision, you devote all your energy, which is great, to the patient achievement of your goals. You are absolutely faithful to your ideas, your principles, your values and intend to reign as absolute master in the field you have chosen. Independent and organised, willful and cautious, if you can on occasion show yourself to be accommodating, in fact you never give up anything on the merits : you only make concessions at the margins and intend to fully enjoy the authority that you claim. If your fiery nature sometimes makes you excitable, you never deviate from your straight path.
▶ Your weaknesses : intimately convinced of the validity of your convictions without nuances, deaf to any criticism, you risk falling into a tense and tyrannical authoritarianism, reacting massively and unfairly to any breach of the rules that you yourself have defined. You will then be a prisoner of your fixed ideas, of your repetitive ruminations, not tolerating any questioning, any novelty, any modification in your frozen and intolerant universe. Extremely egocentric, you only conceive in your relationships with others the relationship of master and slave, within which you would of course be the unquestioned and indisputable master, rehashing fossil certainties that he takes for wisdom.
---
---
---
This article was brought to you by
English translation by Julien Rouger
Next article — Uranus in Gemini
See also:
---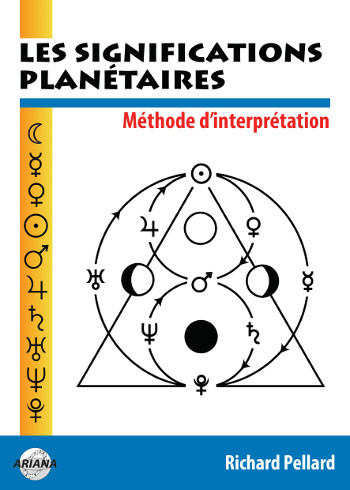 Les significations planétaires
par Richard Pellard
620 pages. Illustrations en couleur.
La décision de ne traiter dans ce livre que des significations planétaires ne repose pas sur une sous-estimation du rôle des Signes du zodiaque et des Maisons. Le traditionnel trio Planètes-Zodiaque-Maisons est en effet l'expression d'une structure qui classe ces trois plans selon leur ordre de préséance et dans ce triptyque hiérarchisé, les Planètes occupent le premier rang.
La première partie de ce livre rassemble donc, sous une forme abondamment illustrée de schémas pédagogiques et tableaux explicatifs, une édition originale revue, augmentée et actualisée des textes consacrés aux significations planétaires telles qu'elles ont été définies par l'astrologie conditionaliste et une présentation détaillée des méthodes de hiérarchisation planétaire et d'interprétation accompagnées de nombreux exemples concrets illustrés par des Thèmes de célébrités.
La deuxième partie est consacrée, d'une part à une présentation critique des fondements traditionnels des significations planétaires, d'autre part à une présentation des rapports entre signaux et symboles, astrologie et psychologie. Enfin, la troisième partie présente brièvement les racines astrométriques des significations planétaires… et propose une voie de sortie de l'astrologie pour accéder à une plus vaste dimension noologique et spirituelle qui la prolonge et la contient.
Téléchargez-le dès maintenant dans notre boutique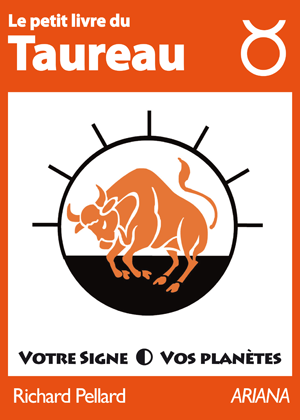 Le petit livre du Taureau
par Richard Pellard
49 pages. Illustrations en couleur.
Ce livre présente et explique les trois zodiaques : celui du décor des constellations, celui de l'astrologie traditionnelle basé sur les Quatre Éléments symboliques (Feu, Terre, Air & Eau) et celui de l'astrologie naturelle basé sur les phénomènes astronomiques objectifs.
Interprétation du Taureau selon la symbolique classique et selon ses réflexes dans le zodiaque naturel (force, vitesse, équilibre) ; interprétation du Taureau en fonction des planètes dominantes ; le Signe solaire & le Signe Ascendant.
Téléchargez-le dès maintenant dans notre boutique
All rights reserved. © 2003–2023
Richard Pellard
. Prohibited reproduction.
Webmaster:
Julien Rouger
AstroAriana — Website realized with
SPIP